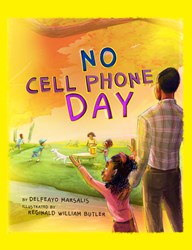 Technology is here to stay, but when it's getting in your way, have yourself a no cell phone day!
New York, NY (PRWEB) November 01, 2013
"No Cell Phone Day," the first children's book written by jazz trombonist and music producer, Delfeayo Marsalis, is available now for purchase at KidstownPress.com.
"No Cell Phone Day" follows six-year-old Jazmine, as she gifts her dad a birthday present of spending quality time together without the interruption of cell phones. As a result, father and daughter have the greatest day ever. Young readers will share their journey, as Jazmine and her dad bond while visiting historical landmarks throughout the city of New Orleans. The heartwarming story sheds light on the importance of personal interaction with loved ones, excluding the disturbance of mobile phones and other technology.
"A few years ago, my only daughter Jazmine and I decided to spend an entire day free of cell phones and her excitement inspired me to write about the experience," said Marsalis. "Although my relationship with technology rests somewhere between love and indifference, I enjoy having the world at my fingertips; but can certainly do without the distraction at times."
According to PewInternet.org, as of May 2013, 91% of American adults have a cell phone, and 35% of those adults admit using their mobile devices while playing with their children.
"The essence of this story is deeply rooted in important lessons learned in my youth from loving relatives," said Marsalis. "Technology is here to stay, but when it getting in your way, have yourself a no cell phone day!"
The new picture book for young readers features fun, vibrant artwork created with both pencil sketches and digital painting techniques, illustrated by Reginald William Butler.
Published by Kidstown Press - "No Cell Phone Day" ISBN: 9780989519502. | Price $16.99
# # #
About the Author:
New Orleans native, Delfeayo Marsalis has been involved with youth education for years. In 2000, the NEA Jazz Master Award recipient founded the Uptown Music Theatre, to provide arts education for New Orleans youth. Subsequently, Uptown Music Theatre has staged 16 of his original musicals.
About the Illustrator:
Reginald William Butler has directed and produced work for various giants in the animation, children's publishing and commercial graphics industries. Butler's credits include Google Chrome, BET & Centric, Animation Direction for Sesame Workshop, Design for Nickelodeon and Cartoon Network as well as illustration for Redline Editorial and Reading A-Z.
Book Reviews & Media Inquiries:
Alvin Lopez Woods
Brand Strategist, The Media Model
Email: alvin(at)themediamodel(dot)com
Phone: 347.949.8172