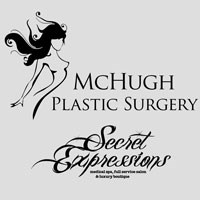 In addition to traditional facelifts and cosmetic procedures, we are pleased to offer a series of non-surgical options such as the liquid facelift, laser services and more to help our clients both look and feel their best
The Woodlands, Texas (PRWEB) November 05, 2013
While traditional facelifts require a more extensive time and financial commitment, instant liquid facelifts, which simply use injectables to reduce lines and wrinkles, are growing in popularity across the United States. Thomas McHugh, owner and founder of McHugh Plastic Surgery in The Woodlands Texas, is one of the few local doctors who offers and specializes in liquid facelifts, using dermal fillers, Botox or Dysport to gently lift and contour facial features without surgery. He works to fill hollows and plump features such as cheeks, to reduce or eliminate lines and wrinkles, and to firm skin, resulting in a rejuvenated, more youthful appearance.
McHugh Plastic Surgery, along with its partner Secret Expressions, will be hosting an Injection Day Nov. 14 with special pricing on injectables, offering clients desired lift and contours.
"In addition to traditional facelifts and cosmetic procedures, we are pleased to offer a series of non-surgical options such as the liquid facelift, laser services and more to help our clients both look and feel their best," Dr. McHugh said. "As a pre-Thanksgiving thank you to clients, we decided to celebrate Injection Day with great deals all day."
Each dermal filler used in a liquid facelift has unique attributes and requires subtle variations in the injection technique to achieve optimal results, which is why all injections are done by Dr. McHugh, a board certified plastic surgeon. Prior to any procedure, he consults with patients to design a customized treatment plan for each person's unique facial characteristics, ethnic background and desired outcome.
Injection Day specials with reduced costs on fillers are designed to allow clients to get more for less. Liquid facelifts offer minimal down time, low risk and impressive initial results, which continue to evolve and improve during the days that follow. The results of a liquid facelift generally last from four to nine months. This procedure is ideal for both women and men looking for a refreshed look who aren't ready for a surgical procedure.
About Dr. Thomas McHugh. M.D.
Dr. Thomas P. McHugh, M.D. earned his medical degree from Wayne State University in Detroit, and completed his plastic surgery residency at the University of Texas Medical Branch, where he was named chief resident in the plastic surgery division. Dr. McHugh stays informed of all of the latest technological advances in the field by attending regular meetings and adhering to a comprehensive research regimen. In addition to maintaining his private practice in The Woodlands, Dr. McHugh serves on the staff of several prestigious hospitals in The Woodlands, Kingwood and the I-45/FM1960 area of Houston, including the Houston Northwest Surgical Center, Houston Northwest Medical Center, Kingwood Specialty Hospital and the Lake Woodlands Surgery Center.