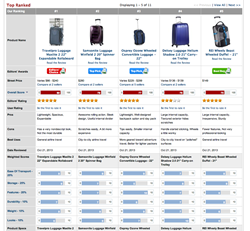 We traveled the country with bulging bags and did epic battle with overhead bins to find the best travel buddy for your journey.
Cheyenne, Wyoming (PRWEB) October 31, 2013
Today, OutdoorGearLab.com announced awards in its top Carry-On Luggage review. Over 10 bags went through side-by-side tests on airplane and car travel across the United States. The bags were evaluated on ease of transport, storage, features, durability, weight, and looks. Both standard business and professional carry-ons were put side-by-side with more consumer oriented bags. Also tested were carry-ons with day pack properties.
And the winners are:
Editor's Choice
Travelpro Luggage Maxlite 2 22" Expandable wins the highest award because it performed the best at the most essential tasks during airport navigation. There were very few extras, but the one extra it did have was the ability to expand beyond a carry-on size and become more like a standard check-in bag. This is ideal for travelers who may accumulate additional items on their journey.
Top Pick
The Samsonite Luggage Winfield 2 20" Spinner was the top hard-shelled case and second highest scoring suitcase over all. If protection is a top priority, then this is an ideal way to keep your clothing and personal items safe and secure. This bag also had some of the best wheels and was the highest scoring bag with four wheels. Testers also commented that it was the sleekest and sexiest product tested.
Top Pick
The Osprey Ozone Wheeled Convertible was the highest scoring contender that also turns into a backpack and has a zip able day pack. This was also the third highest scoring bag over all and one of the lighter bags. If versatility and the option to have an extra day pack is a top priority, then this is the back to get.
Best Buy
The REI Wheely Beast Wheeled Duffel was the fifth highest scoring bag and by far the best value. Most bags were in the $200-$300 range, and this one was a mere $150. In addition to the great value, it was also one of the easiest to pack and was one of the top performers in the storage categories.
OutdoorGearLab LLC is a company headquartered in Cheyenne, Wyoming dedicated to creating the world's best outdoor gear reviews. The company's website is a free resource for people who love the outdoors and participate in activities such as hiking, climbing, backpacking, and camping. The company performs side-by-side testing of outdoor gear and publishes the results in comparative reviews. Each product is scored across a range of weighted categories, competing products are ranked, and awards are provide to top performing products.