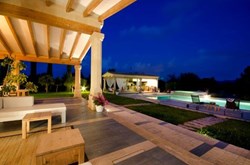 Mallorca scored best for retirement.
(PRWEB UK) 31 October 2013
Property consultancy, Knight Frank, has just placed Mallorca at an impressive number two spot in its Global Lifestyle Review. Beaten only by Dubai, the Island performed well for culture, education and cost of living. Local agent Mallorca Sotheby's International Realty is delighted with this recognition.
The Review was based on what Knight Frank believed to be the key lifestyle factors relocating individuals take into account – namely education, climate, leisure pursuits and the availability of quality restaurants. Mallorca was consistently strong throughout. Knight Frank also categorised according to three genres: the entrepreneur, the family and the retired couple. Mallorca scored best for retirement.
"I am not surprised that Mallorca's ranked strongly for retirees," says Daniel Chavarria Waschke, Managing Director of Mallorca Sotheby's International Realty. "As the Review outlined, chief drivers for this age group are quality of life, cost of living and personal security, alongside leisure pursuits and accessibility for visiting friends and family. Healthcare is also a concern. Mallorca offers 300 days of sunshine a year, 24 golf courses, endless watersports, a variety of theatres, five Michelin starred restaurants and excellent medical facilities. For this reason retirees always make up a large portion of our client-base at Mallorca Sotheby's International Realty – around 20%."
Anna Batizi, Head of International Sales for Moscow Sotheby's International Realty (a city which ranked joint tenth in the Review) agreed on Mallorca's appeal. "Spain is most definitely among the top five countries where Russians choose to go on holiday or buy a home. In Mallorca, good build quality and a developed infrastructure from shops to schools, there are ten international schools within a 50km radius of capital Palma, all add to the appeal. Spain's new Golden Visa scheme has also piqued Russian interest."
Traditional locations such as London, Paris and New York scored well in the Knight Frank Review, but only London made the top ten (in sixth) with the others lacking consistency across the spectrum. The city that ranked the highest was Geneva (joint second with Mallorca) and another city that performed well was Hong Kong in seventh.
Dubai achieved its top spot thanks to a vast number of international schools, variety of leisure pursuits on offer and 350 days of sunshine a year. The Emirate also had the cheapest fuel over the past 12 months and a raft of beneficial tax factors to take into account. Meanwhile, accessibility is at a premium with the Airport being a central hub for global aviation.
"There are some aspects, in my opinion, where Dubai falls short in comparison to Mallorca," argues Daniel. "350 days sunshine a year is great, but in the height of summer temperatures can soar to 50 degrees Celsius and it's almost impossible to be outside of an air-conditioned building, even at night. Traffic can also be a headache with more than a million cars in a place that had just a handful only a few decades ago. Some expats may also find rules on alcohol, dress sense and behaviour take a while to get used to. Summer temperatures in Mallorca are perfectly bearable, traffic doesn't feature in the dictionary and society is very liberal."
On the Market in Mallorca:
Ref 4924 – Villa, Pollensa, Mallorca
Set on an expansive plot of 80,050 square metres, this newly-built property is orientated to the south and benefits from all-day sunshine as well as stunning panoramic views of the Tramuntana Mountains. Constructed using modern high quality building materials in a traditional style, the home is arranged over two floors and includes a large living area opening onto the terrace, gardens and swimming pool, a dining room with fireplace, six bedrooms and bathrooms, a wine cellar and much more. Extras include hot and cold air conditioning, an outdoor kitchen and barbecue and automatic garden irrigation.
Built area – 575m², Plot size 80,050m²
Bedrooms – six, Bathrooms – six
Price 3.5 million euros (approx 2.99 million GBP)
Contact Mallorca Sotheby's International Realty on phone: (+34) 971 674 807, email mallorca(at)mallorcasir(dot)com or visit http://www.mallorca-sothebysrealty.com.
-ends-
For further press information or photography, please contact Sarah Drane on sarah(at)purplecakefactory(dot)com or call 00 34 607 564 726.