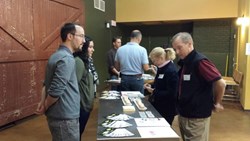 (PRWEB) November 04, 2013
"Success is a science; if you have the right conditions, you get the result." - Oscar Wilde
The food industry is one of the most rigorous and competitive sectors, making it difficult for new food entrepreneurs to etch their way into the market. Now We're Cookin' has launched its advanced incubator program to help take food businesses to the next level. This newly developed and effective model will provide entrepreneurs with all the necessary tools needed to develop and grow successful companies.
The incubator is designed to help:
…cultivate and launch brands,
…construct proficient business plans,
…obtain required certifications,
…design and acquire impactful packaging
and labeling,
…improve purchasing and procurement,
…format effective pricing strategies,
...source seed funding,
… and develop successful marketing and social media campaigns.
Now We're Cookin' is rapidly expanding and we are now accepting new applicants for our incubator program.
Vote for us!
Now We're Cookin' is eligible for a Chase small business grant and we need your vote.
To help support food entrepreneurs, vote for us here: https://www.missionmainstreetgrants.com/business/detail/32054.