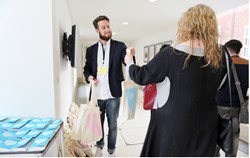 The more people wear your logo, the more visible you are.
London, UK (PRWEB UK) 31 October 2013
Founded in London in 2010 Icon Printing has supplied promotional clothes and bags for leading fashion, media and tech industry brands.
Here are five tips from Icon Printing's director Alex Econs, on how branded clothing can help promote your event:
1. The more people wear your logo, the more visible you are. Give them great looking clothes and bags and they are more likely to wear them regularly.
2. At events, printed t-shirts are a great way to make your staff more visible to visitors. We printed 650 staff t-shirts for international investor Seed Camp's week-long conference in London, which brings in start-ups and industry mentors from all over the world. They are more casual than uniforms, and add a friendly human face to your logo.
3. Use cotton bags to hand out conference packs, notepads and pens. These are often converted into eco-friendly shopping bags or even everyday handbags. Design blog Its Nice That printed 500 bags with us for their symposium bringing together creatives from across the UK. Because they are all one size, bags can be easier to distribute than t-shirts or sweatshirts.
4. Printed t-shirts help create a sense of cohesion and team spirit. This is particularly important for events with a large audience, where most of the people have not met before, and where many more are likely to disagree.
5. Great looking t-shirts or bags, with a snappy design, make ideal souvenirs. They give your audience a reason to talk about you once the event is over – and even boast to their friends about being there. Net-A-Porter ordered 3000 t-shirts and bags from us for the worldwide launch of 'Karl', designer Karl Lagerfeld's new line for women. With their catchy 'Karl Addict' logo, no doubt these t-shirts will be worn again by fans who made it to the events in New York, London, Paris and Sydney.
Finally, to get the most out your branded t-shirts, sweatshirts and bags – make sure they look and feel good. Go for quality and comfort, but also fashionable items that people will want to keep wearing, in the gym, the supermarket, the office or at home.
About Icon Printing
Located in Shoreditch, the heart of London's creative and tech industries, Icon Printing specialises in promotional clothing, uniforms and merchandise. Its services include screen printing, direct-to-garment printing and embroidery, and post production services such as re-labelling and polybagging. They produce high quality branded clothing, dispatched in as little as 24 hours with guaranteed satisfaction and low cost.
Since launching in 2010, Icon Printing has seen a 100% year-on-year increase in sales.
The company supplies promotional clothing and bags to over 2000 businesses, often in the media, tech & fashion industries, such as Harvey Nichols and Channel 4. Other clients include gym clubs, breweries, restaurant chains, charities and events companies.
Additionally Mr. Econs explains, "Our rapid turnaround times, customer service and design background distinguish us from other garment printing companies, we find our clients regularly come back for more".
After three years of rapid growth, Icon Printing moved to larger premises in Rivington Street in September. The company plans to hire more people in marketing and customer services, and expand its product range.
For more information, visit the Icon Printing website:
http://www.iconprinting.com