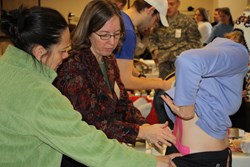 Philadelphia, PA (PRWEB) October 31, 2013
How to Become a Certified Kinesio Taping Practitioner
Allied health professionals in need of continuing education units (CEU's) should consider planning now for Kinesio Taping Certification courses scheduled throughout 2014. Since the popularity of Kinesio Tape has been growing, more and more allied health professionals are becoming Certified Kinesio Taping Practitioners (CKTP). They desire to go through the certification process so that they can earn their designation and properly practice the Kinesio Taping Method.
Kinesio Taping certification courses are open to licensed health care professionals in the following specialties:

Physical Therapists
Physical Therapy Assistants
Athletic Trainers
Occupational Therapists
Occupational Therapy Assistants
Chiropractors
Licensed Acupuncturists
Licensed Massage Therapists
Doctors of Medicine (M.D. and D.O.)
How to Become Certified.
In order to become certified, a clinician must attend and complete KT1, KT2 and KT3 approved seminars. The seminars are typically completed in two weekends, spaced apart. The first weekend covers KT1 and KT2 while the second weekend covers KT3. Clinicians must pass the CKTP exam with a score of 80% or greater, and maintain their annual KTAI membership. Additional course information is available at http://www.kinesiotaping.com/education/seminars/course-information.
When certified through this process, clinicians are allowed to add the CKTP designation to their letterhead and business cards. They will be eligible to serve as lab assistants at approved seminars for Kinesio Taping. If desired, a CKTP Elite member can also be recognized and listed by name and location on the KTAI website, where they may be found by prospective patients in need of Kinesio Taping.
The CKTP designation is dependent upon membership and certification. It protects the CKTP credentials of all Kinesio Taping Method practitioners, and ensures that the title is only used for clinicians who have been certified as Kinesio Taping Practitioners. The designation also allows these practitioners to more fully promote their practice, clinics and expertise in applying the Kinesio Taping Method.
How do Certified Kinesio Taping Practitioners Maintain Their Status?
The Kinesio Taping Association International (KTAI) is the organization that certifies practitioners. They will maintain a continuous relationship with all of their certified practitioners. It's important, once certified, to keep the membership up to date, so that clinicians have access to the latest research and news about the Kinesio Taping Method. This comes through member newsletters, the Ask the Expert Forum, and the Application Database online.
KTAI is always working to improve courses and course content, so the actual process of certification may change. Current practitioners who wish to remain certified must follow any standards that have been updated since their certification, in order to remain certified. Additional certification requirements and information can be found at http://www.kinesiotaping.com/education/certification
More Background on the Kinesio Taping Method.
Kinesio taping and products like Kinesio Tex Gold FP have changed the lives of athletes and other patients, worldwide. There are many CKTP's working in hands-on seminars and studying to become Certified Instructors.
The methodology of Kinesio Taping involves a taping technique that is rehabilitative, and designed to allow the body to heal, even as it supports joints and muscles. Range of motion is not restricted and the underlying soft tissue is manipulated to give users the prolonged benefits of therapy.
Kinesio Tex Gold Tape can be worn for days without removal, and it's latex-free and hypoallergenic. The tape is safe for everyone from the pediatric to the geriatric population, and it successfully treats neurological, neuromuscular, and orthopedic conditions. Kinesio Tape products and information may be found at http://www.orthoco.com/kinesio_tape_therapy_s/3.htm.
Kinesio Taping Course Schedules: http://www.kinesiotaping.com/education/seminars/seminar-schedule/listings