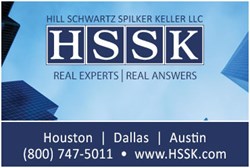 Houston, Texas (PRWEB) October 31, 2013
Hill Schwartz Spilker Keller (HSSK) is proud to announce that they have been awarded second place for both Forensic Accounting Provider and Litigation Valuation Provider in this year's "Texas Best" by Texas Lawyer Magazine.
"Texas' Best" is Texas Lawyer magazine's annual "Best Of" poll where lawyers across the state have cast their votes for the best providers of products and services to the Texas legal community. The ballot consisted of 40+ categories encompassing legal support, business, education, legal products and services. It was then sent via email to attorneys all over the state of Texas. Hundreds of attorneys took the time to participate and voted not only for the companies listed in the survey, but added write-ins as well.
"We are very excited to have been voted to receive these two awards," said Marc Schwartz. "HSSK aims at providing its clients with the best of service in our field and we are much honored to receive these awards for our efforts."
HSSK has provided both publicly and privately held businesses with business valuation, litigation consulting and financial restructuring services for over 30 years. Led by Mike Hill, Sr., HSSK has built its team from the most talented and experienced individuals in the field of forensic accounting and litigation consulting. Many of these professionals are recognized leaders in their profession and bring HSSK over twenty years of business/industry experience. This aspect of team building as made HSSK what it is today and allows them to go above and beyond for their clients.
For more information on HSSK's Forensic Accounting and Litigation Valuation services, visit their website: hssk.com.
About Hill Schwartz Spilker Keller LLC (HSSK)
Hill Schwartz Spilker Keller LLC (HSSK) is a professional services firm devoted to Business Valuation, Litigation Consulting and Financial Restructuring. The principals have been serving the corporate, legal and professional communities for over thirty years. HSSK assists clients in quantifying and articulating value for financial reporting, taxation, transaction, and corporate planning purposes. We also work with clients involved in filed and pending litigation and disputes by providing valuation services, financial forensics, financial damage determination, and bankruptcy related services, including serving as financial advisors to parties, as trustees, and as examiners.
###