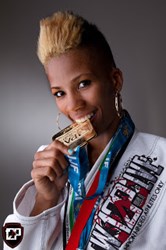 I'm going to do better than I did last year - Nyjah Easton of Team Lloyd Irvin
Long Beach, CA (PRWEB) November 02, 2013
Nyjah Easton, entering his second season at Black belt, is the first ever female Black belt under acclaimed head coach Master Lloyd Irvin. Easton normally competes in the women's light feather division at IBJJF competition, but this year she's moving up to feather weight.
The reason for the change is there were simply no other competitors in the Light Feather division for Easton to fight. With only hours left before the registration closed, Easton jumped up to feather where there would be guaranteed matches.
Last year at the No Gi Worlds the Lloyd Irvin Black belt, then light feather, found herself in third place. Not please with her performance, Easton looks to rebound with a first place finish this year.
Says Easton, "I'm looking forward to competing this year and representing Team Lloyd Irvin out there. I'm going to do better than I did last year and I'm really comfortable at this weight [feather weight]."
For more information on Team Lloyd Irvin or Nyjah Easton, please call 301-449-KICK, lines are open 24/7, or visit http://www.lloydirvinlive.com.