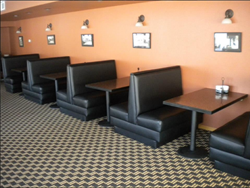 New Ulm, MN (PRWEB) November 01, 2013
Leading commercial furniture distributor, Restaurant Furniture Supply recently helped one of Minnesota's oldest and most distinguished country clubs update the design of their restaurant, Cottonwood Grill in New Ulm, MN.
The New Ulm Country Club is located in New Ulm in southern Minnesota. Established in 1929, it is a scenic and challenging course adjacent to Flandrau State Park. The clubhouse was remodeled in March of 2011 and hosts events year round with room for more than 300 people.
The New Ulm Country Club include an 18 hole golf course, pro shop, restaurant and banquet hall which seats up to 350 people. The Cottonwood Grill is open seven days a week for lunch and dinner except in winter when it is closed on Sunday and Monday. Cottonwood Grill is a great place for a casual meal or a small business meeting. Their menu has many great items and offers something perfect for everyone's taste.
The New Ulm Country Club recently hired a new professional chef to revamp the Cottonwood Grill, with a new menu. The menu will focus on fresh ingredients and high-end versions of the restaurant's bar food. New items, like citrus ginger crab cakes, will be introduced. Burger offerings will feature hand-made, ground chuck with traditional toppings. There will also be a burger featuring a marinated portabella mushroom cap and another that is Cajun spiced with a crab cake topping.
The addition of a chef is part of a multi-year effort to revamp the bar area into a fully formed restaurant beyond simply providing food for golfers according to the manager of the country club and Cottonwood Grill. The process began with remodeling the bar side of the building and renaming the area. A major aspect of renovation has been updating Cottonwood Grill's seating.
The manager of Cottonwood Grill turned to Restaurant Furniture Supply to update the restaurant and bar's seating. He chose the Quick Ship double and single plain black booths in 48" height and 42" in length. The single booths sell for $202 and the double booths sell for $330. The Quick Ship Booths come in black and wine and in heights of 36" or 42" and can be delivered in 7- 14 days.
Restaurant booths can be an important part of a seating plan and offer many benefits such as privacy for the diners and a more sophisticated ambiance. Restaurant Furniture Supply has been acclaimed for making high quality restaurant booths. There are many different styles and options to choose from on their website, which includes materials such as vinyl and other fabrics. Custom booths can also be made in any style, size or shape and in any material the customer requests.
Browse Restaurant Furniture Supply's full selection of commercial grade chairs, bar stools, table tops, table bases, booths and patio furniture at http://www.restaurantfurnituresupply.com or talk to a customer service representative at (888) 346-9992.
Cottonwood Grill at New Ulm Country Club is located at 1 Golf Drive in New Ulm, MN. They can be reached at: (507) 354-8896.