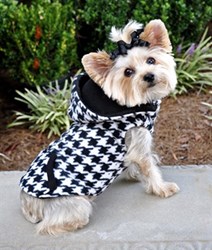 Caring for our pets and our customers' pets is a number one priority for us.
Houston, TX (PRWEB) October 31, 2013
As the winter weather is fast approaching and temperatures are starting to drop, pets need more protection just as people do. Many people mistakenly believe that dog coats and sweaters are merely for making a statement or are silly, however, when the temperature drops and frigid winds, snow, and ice become the outdoor conditions, dogs need extra care and warmth. This is especially true for older dogs, breeds with thin hair and coats, and dogs that are not completely healthy. Coats, jackets, and sweaters can help prevent illnesses, joint pain, general discomfort and potentially severe consequences from prolonged exposure to winter weather.
Doggy In Wonderland strives to of offer a great collection of fun, and stylish dog coats, jackets, and sweaters. These coats, jackets, and sweaters come in a variety of styles, sizes, and colors. Dogs can be stylish while being protected from the elements.
Dog coats and jackets can be all-weather parkas, warmer thicker materials for extra cold weather and chilling winds to lighter weight for the less harsh winter climates. They come in a variety of styles and colors from parkas to wrap-around to water repellant and from solids to faux-fur to ruffles to plaids to animal prints. Many dog coats come with D-Rings so leashes can easily be hooked for walks. There are even raincoats for dogs to help repel water when those rainy days come.
Dog sweaters also provide dogs with the warmth and protection they need. Sweaters can be worn inside and outside. The dog sweaters at Doggy In Wonderland also range in styles and colors from light weight acryllic to hand knit wool. Some display a fun side of life such as the Monkey Hoodie Sweater or Piggy Hoodie Sweater which have ears on the hoodies. Others are holiday themed such as the Christmas Elf Sweater.
"Caring for our pets and our customers' pets is a number one priority for us. We try to keep up with the latest styles and provide our customers, not only with great looking products, but also with products that help them keep their pets safe from harm. This includes winter apparel for dogs. They need extra protection in harsher weather just as we do," one managing partner stated. "We are super excited about some of the dog raincoats we just added to our collection. We think they are adorable."
About Doggy In Wonderland:
DoggyinWonderland.com is a BBB accredited online pet boutique offering a wide selection of pet accessories and other products for dogs and cats. This includes a full line-up of chic dog products such as stylish dog clothing, collars and leashes, pet furniture and dog beds, eco-friendly pet gear, healthy dog treats, dog toys, pet carriers, and a growing collection of cat products as well. Their goal is not only happy and healthy pets, but also 100% customer satisfaction. Call 866.280.1818 for more information, and see the full product range at DoggyinWonderland.com.