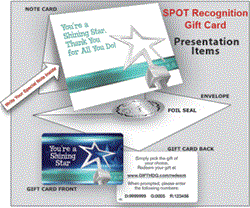 Managers don't know when it will happen, but want to be prepared to recognize and reward employees when it does.
Oak Brook, IL (PRWEB) October 31, 2013
Nothing works better to reinforce an employee's positive actions than quick, on the spot recognition. When it's received soon after the event or action, the recognition has a much greater impact than if received days or weeks later.
With a supply of spot award packets on hand, managers can easily recognize and reward desired actions as they happen.
According to Greg Kern, Executive VP of Select-Your-Gift, "Managers don't know when it will happen, but want to be prepared to recognize and reward when it does." This type of recognition lets employees know that someone notices and appreciates their efforts and important contributions.
Spot recognition programs work best when the recognition criteria is predefined and well communicated. To get started, determine the motivational goals, such as: improve peer-to-peer assistance, encourage safe behavior, various contests, or training incentives, to mention just a few.
Once these goals are defined, a list of easily recognizable work related activities can be made. That list becomes the basis for potential spot recognition.
Everything is included with Select-Your-Gift spot recognition gift card packets, making this an easy, turn-key type program. Each pre-designed themed gift card is uniquely numbered to allow the recipient to redeem a gift of their choice from the designated level-based online catalog of life-style merchandise.
Each packet also includes a matching theme note card and a foil-seal to close the provided envelope. All a manager has to do is add their recognition message to the note card, and present the spot award to the employee.
According to Greg Kern, the elements for a successful spot employee recognition program are:

Defined recognition criteria that is easy for managers and employees to understand.
Provide examples by translating the criteria into easily recognized work activities.
Must be easy to easy to order and easy to use.
Be on-going, by keeping a supply of spot recognition gift card packets on hand.
Provide multiple award levels of recognition, as appropriate for various actions.
Include a personal message to communicate the recognition and appreciation.
Employee spot recognition gift card award packets from Select-Your-Gift includes everything needed to get started. With its low cost, its easy to give it a try to see the power of spot recognition.
To get more information, please contact Joe, the national sales manager at Select-Your-Gift, at 630-954-1287
For details, visit their web site http://www.select-your-gift.com/spot
About Select-Your-Gift, Inc:
Select-Your-Gift, Inc. is a leading incentives and rewards company, specializing in service awards, employee holiday gifts, recognition awards, and online points-based incentive programs. The company helps businesses of all sizes recognize, motivate, and retain their employees with online solutions, and customizable award presentation packets, all at the lowest prices.