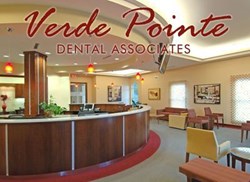 "The event gives people a chance to visit our office, meet the dentists and talk with the staff. Everyone is welcome."
Marietta, GA (PRWEB) October 31, 2013
The Verde Pointe Dental Associates, Drs. Kirk Kimmerling DDS and Suzanna Aguilera DMD have continued their tradition for a safe and fun Halloween event hosted on October 31, 2013. The dentists and staff celebrate the festive holiday with the children and adults of the Marietta and surrounding communities. The office dresses up and gives out healthy treats and snacks to children and adults alike in the surrounding sub-divisions and neighborhoods. It gives people a safe place to collect treats and have fun. Patients and non-patients alike are invited to come and enjoy.
"We began the festivities years ago, as our staff enjoys Halloween and dressing up," says Dr. Kimmerling. "So, it was an easy extension to add patients then the entire community to the office event. It gives people a chance to visit our office, meet the dentists and talk with the staff. Everyone is welcome." Drs. Kimmerling and Aguilera are well-known philanthropists in the community, so the Halloween party is another community event they sponsor.
The office passed out Trident gum, toothbrushes, floss, and xyilitol mints to encourage healthy oral hygiene. "Everyone loves the gum and mints, but appreciates the new toothbrushes and floss when they use them," says Ashley Peckich, front staff at the dental office. "It's always fun to show people around our extraordinary office and have them become a part of the dental family. Our doctors are very skilled and offer the latest in technology. We are thriving because we cater to every dental patient and are passionate about dental care."
The Halloween event has grown into a huge community affair. People are talking about coming back again next year. The Halloween costumes have been quite amusing, as even Dr. Kimmerling's Dog, Willie stopped in to greet the children. He unexpectedly was the biggest part of the event. Willie plans a return visit again next year.
Kirk Kimmerling DDS and Suzanna Aguilera DMD are Marietta cosmetic dentists and emergency dentists in Marietta, GA, (near Kennesaw, Dallas, Powder Springs, and Austell) that are dedicated to helping people achieve the smile they desire. The dental office is a full service practice providing everything from teeth cleanings, teeth whitening, dental fillings, root canals, dental extractions, dental crowns, dental bridges, dental implants, dental veneers, toothaches dental emergencies and more. The dentists are accepting new patients to the dental practice.