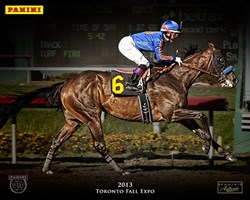 Irving, TX (PRWEB) October 31, 2013
Panini America (http://www.paniniamerica.net), the world's largest sports and entertainment collectibles company, will be right by Chantal Sutherland's side – literally – when the decorated female jockey races this weekend during the 2013 Breeders' Cup World Championships at Santa Anita Park in Arcadia, Calif. The Canadian jockey with more than 930 career victories will sport the Panini logo on her riding shirt and pants for four races, including in the Breeders' Cup World Championships $1,000,000 Filly & Mare Sprint on Saturday on board Brazilian-bred Great Hot at 4:21 PM (EDT) on NBC Sports Network.
Panini America also announced today as part of an expanded relationship that Sutherland will appear in two upcoming trading card releases – Panini's NHL Crown Royale product, where she will appear in the popular "Fans Of The Game" insert as a fan of the Toronto Maple Leafs. Crown Royale will be available at hobby shops and retailers in February 2014. Sutherland will also appear in Panini's popular pop culture product, Americana, scheduled to release in April 2014.
"Chantal's impeccable track record as a bona fide winner and her ability to transcend the sport are key components to this partnership," said Jason Howarth, Panini America Vice President of Marketing. "We've just given sports trading card fans a rooting interest in this year's Breeders' Cup World Championships on Saturday."
In June of 2012, while riding Game On Dude, Sutherland became the first female jockey to win the Hollywood Gold Cup at Hollywood Park Racetrack in California. But Sutherland is about more than stirring performances on the track. The Manitoba-born Sutherland is also a model and television personality, and one of the most recognizable athletes in all of horseracing. She has graced the pages of Sports Illustrated and Vogue, and was named one of People Magazine's "100 Most Beautiful People" in 2006. She also has appeared on the Animal Planet reality TV show "Jockeys" and the HBO series "Luck."
"Panini has a rich history of including some of the most collectible horseracing trading cards of all time featuring horses and jockeys in our Golden Age and Americana products, and we're excited to be able to introduce Chantal into that mix very soon," Howarth said.
Next week, in conjunction with the 2013 Toronto Fall Expo (one of the preeminent collecting shows in Canada), Panini America will host its third invitation-only Panini VIP Party. Sutherland will join other athletes including retired NHL hockey player Eric Lindros, Toronto Argonauts receiver and MMA fighter Chad Owens (the CFL's Most Outstanding Player in 2012) and Hamilton Tiger-Cats Quarterback Henry Burris, a two-time Grey Cup Champion, Grey Cup MVP (2008) and former CFL Most Outstanding Player (2010) as special guests of Panini to engage and interact with party-goers; Panini America will announce additional athlete attendees next week.
Panini America is the only company in the world that manufactures licensed trading cards and stickers for the NBA, NFL, NFL PLAYERS, NHL, NHLPA, MLBPA and FIFA World Cup. The company also has exclusive relationships with USA Baseball, USA Basketball and the U.S. Soccer Women's National Team. In addition Panini also has exclusive relationships with the Pro Football Hall of Fame and Naismith Memorial Basketball Hall of Fame. Panini owns exclusive entertainment licenses with Disney, One Direction, Justin Bieber, Hello Kitty and Michael Jackson, and more than 600 global licenses with other sports and entertainment properties.
ABOUT PANINI:
The Panini Group, established almost 50 years ago in Modena, Italy, has subsidiaries throughout Europe, Latin America and the United States. Panini is the world leader in officially licensed collectibles and is the most significant publisher of collectibles in the U.S., with official licenses for MLBPA, NBA, NFL, NHL, FIFA, USA Baseball, Disney, Nickelodeon, Warner Bros. and other key properties from many other licensors. Panini has distribution channels in more than 100 countries and employs a staff of over 800. For more information visit us at http://www.paniniamerica.net, http://www.paninigroup.com or http://www.paniniamerica.wordpress.com. You can also follow Panini America on social media platforms Facebook, Twitter and on YouTube.