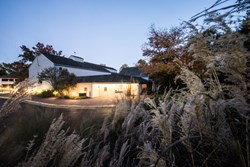 Vienna, Virginia (PRWEB) October 31, 2013
Passionate roots-rock singer Lisa Marie Presley began song writing in her late teens. Her debut album, To Whom It May Concern (2003), peaked at No. 5 on the Billboard 200 and introduced audiences to her "stark, uncompromising tone" and "gutsy blues-edged voice" (The Los Angeles Times). Her newest release, Storm & Grace (2012), moves away from the hard rock-influenced sounds of her first two albums to reveal her smoky, ethereal vocals and Southern spirit. Spinner.com called the album "a moody masterpiece, exploring the demons and angels of her life to the tune of country-spiced downbeat pop." In 2012 Presley released "I Love You Because," an emotional duet combining her own vocals with a 1954 recording by her father, Elvis Presley.
Video: Lisa Marie Presley – "Weary" (Live)
Lisa Marie Presley
Friday, November 15, 2013 at 8 pm
$35-$40
Armed with an eclectic alt-country sound and pointedly satirical lyrics, the self-described "most laughable band in show business" has dedicated its career to the art of spoofing sex, politics, and the countless absurdities of life through song. The Lizards are five-time Austin Music Award winners. The band's version of Irving Berlin's "(I'll See You In) C-U-B-A" was also used in Michael Moore's 2007 documentary, Sicko. The Austin Lounge Lizards' latest album, Home and Deranged (2013), features parodies like the TSA-inspired "Thank You for Touching Me There" and recent fan favorite "Too Big to Fail" which comments on political takedowns spanning from "Gingrich the Newt" to "The Ballad of Ronald Regan."
Video: Austin Lounge Lizards – "Stupid Texas Song"
Austin Lounge Lizards
Saturday, November 16, 2013 at 7:30 pm
$24-$27
Tickets can be purchased by calling 1.877.WOLFTRAP; or online at wolftrap.org.
For more information, call The Barns at Wolf Trap at 703.938.2404 or our general information line at 703.255.1900.
High-resolution images of the artists listed are available on Wolf Trap's website: wolftrap.org/Media_and_Newsroom/Photos_for_Publication.asp.
###