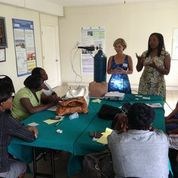 'BHI's program will ensure that women in the community will continue to have access to cervical cancer screening and treatment of pre-cancer,' says Dr. Rachel Masch.
New York, NY (PRWEB) October 31, 2013
Dr. Rachel Masch, an OBGYN at Beth Israel Hospital in New York City, led a team of OBGYNs, nurses and public health professionals to Port Au Prince, Haiti on September 30. The mission of the trip was to train local midwives in cervical cancer prevention. In collaboration with Direct Relief International, the team worked at St. Damien's Hospital for a week, where they provided educational and clinical training to eight midwifes. Midwives were taught how to screen for cervical precancers using the low-cost screening technique, visual inspection with acetic acid (VIA) and to treat pre-cancerous cells with a freezing technique called cryotherapy.
According to the WHO, 85 percent of cervical cancer deaths occur among women from low-income countries, predominantly because they lack access to cervical cancer screening services. Yet, during the week in Haiti, 379 patients were screened.
This is the second training BHI has conducted at St. Damien's. In total, four OBGYNs and twelve midwives have been trained. St. Damien's now offers screening three days a week to the women of Port Au Prince. To date, over 1,000 women have been screened.
Basic Health International (BHI) believes that no woman should die from cervical cancer. Founded in 2005, BHI is a non-profit organization dedicated to preventing cervical cancer in Latin America and the Caribbean through innovative, low-cost, low technology screening and treatment methods. BHI also provides medical training, policy guidance, and research on cervical cancer issues in the developing world.
BHI has been working with various non-profits in Haiti for several years. Haiti suffers from one of the highest cervical cancer rates in the world. In 2000, the International Agency on Research for Cancer estimated that Haiti has the highest incidence of cervical cancer in the Western Hemisphere at 93.9 per 100,000 women. Cervical cancer is the leading cause of female deaths in Haiti and that the mortality rate is more than 30 times higher than in the United States (Partners in Health, 2010).