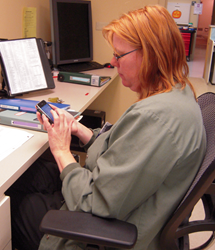 Voalte has substantially cut down on communication redundancies and inconsistencies throughout each shift. - Ellen Wolff, CNO at LRGHealthcare
Sarasota, FL (PRWEB) November 05, 2013
Voalte, the leader in clinical communication technology, announced today that Lakes Region General Healthcare (LRGHealthcare) in the Lakes Region of New Hampshire decreased its Emergency department wait time by one hour after equipping its caregivers with cutting-edge smartphone communication technology.
LRGHealthcare deployed 150 smartphones at its two major hospitals, Lakes Region General Hospital and Franklin Regional Hospital. With Voalte One™, clinicians at LRGHealthcare can make voice calls and send secure text messages over the hospital's Wi-Fi system. The hospital's desk-based staff is connected via Voalte Messenger™, a web-based client that communicates directly with Voalte smartphones.
According to a recent article by Healthcare Informatics, the presence of smartphones at Lakes Region General Hospital has decreased wait time in the Emergency department reduced hospital noise and resulted in a faster doctor response time. Together, these changes have contributed to an increase in patient satisfaction.
"Voalte has substantially cut down on communication redundancies and inconsistencies throughout each shift," said Ellen Wolff, CNO at LRGHealthcare. "Our staff is able to spend more time with patients instead of tracking down information. With these changes in place, our workflow has improved and our patients are happier."
As well as communication between units, clinicians also are able to call or send text messages between the two hospitals. This allows the hospital staff to communicate seamlessly and improve response time for those who work in both facilities.
"We wanted to find a communication tool that not only empowers our clinicians, but also positively impacts our facility for years," said Kevin Irish, CIO at LRGHealthcare. "Voalte is the perfect solution for that. Our clinical workflow has improved dramatically, and the smartphone platform opens the doors for endless possibilities in the future."
About Voalte
Voalte is the only company to provide a fully integrated and dependable clinical communication system that healthcare professionals want, enjoy and effectively use. Voalte products are designed to be intuitive, high-value, mission-critical applications running on the latest generation of touch-based smartphones. For more information, visit http://www.Voalte.com or call 941.312.2830.