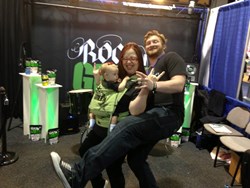 San Antonio, TX (PRWEB) October 31, 2013
The Rockin' Green Eco Friendly Cleaning Products booth always draws a crowd at the ABC Kids Show. From the rock music, drum kit, VIP lounge and bar - everyone stops by to see what is going on.
This year was no exception. Booth traffic was up over 30%, with more than 150 visitors to their booth each day to learn about their products. "We love to share news and educate current and potential customers about our natural cleaning products," said Teresa Bryson, VP of Sales. She continued by saying "Since we sell all over the US (and worldwide), the ABC Show is a great opportunity for us to meet our retailers face to face."
"The baby and kid's market is where we started so it's important to us to continue to reach out and connect with our friends at the show. So many people there are like family now and this is the one time of year we can all be in the same place," said Kim Webb, CEO and Founder of Rockin' Green.
Show specials are always a popular incentive for retailers to place their next order. The ABC Kids Show is consistently a busy show and this year Rockin' Green saw double the sales of last year. This trend is expected to continue as they expand their store representation and product line offerings.
Rockin' Green is available in nearly 400 retail storefront and online locations throughout the U.S and globally including, the United Kingdom, Australia, Canada, Malaysia, Dubai, South Korea and South Africa.
The Rockin' Green family of products is specifically made without harmful ingredients such as phosphates, optical brighteners, dyes, SLS, or Parabens. As a gluten and vegan friendly line they are an excellent choice for those with allergies or sensitivities. All products are biodegradable and come in recyclable packaging.
About Rockin' Green:
Founded in 2009, Rockin' Green has quickly grown to be a favorite among moms looking for an eco-friendly and economical option in green cleaning. The product lineup includes the 2012 About.com Reader's Choice Winner for favorite Laundry Detergent, as well as complimentary products made specifically for cloth diapering, pets, and air deodorizers.