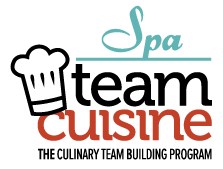 Stoughton, MA (PRWEB) October 31, 2013
Team Cuisine has been a Recipe For Success staple since 2005. With so many repeat clients, introducing new menu choices made sense. It allows clients to choose one menu or mix and match to customize the experience. Said creater Richard Cooper, "We anticipate the addition of more new programs and menu's during 2014. Next up will be a Culinary Scavenger Hunt. Stay tuned for details."
The extensive menu selection features one that stood out as very unique: Spa Cuisine. As one of the fastest growing segments of food in the world, Cooper thought this menu "fit perfectly for the trend toward a healthy lifestyle."
Recipe For Success has even more to offer as they roll into 2014. Perfect for a holiday party "Cooking for a Cause" is quickly gaining in popularity. RFS is currently striving toward supplying 2160 portions of hot food, 720 children's lunch bags, and 108 Canvas shopping bags filled with staple food items to a local Food Bank. New CSR events are in the works for 2014 that are sure to leave work groups feeling great about themselves and the company they work for.
About Recipe For Success
Recipe For Success is a unique team building company that uses culinary challenges to build better teams. Founded by Chef Richard Cooper, a business executive and owner of My Mother's Kitchen Cooking School and David Goldstein, Founder of TeamBonding, Recipe For Success continues to lead the way in food-based team building events. For the last 10 years, Recipe For Success has been developing, refining, and delivering fun, affordable, high-quality culinary team building programs to an impressive list of clients throughout the United States and beyond. For more information on the company, please visit: http://www.recipeforsuccess.com.