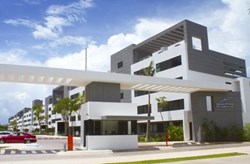 Grand Coral, Playa del Carmen, Riviera Maya, Quintana Roo, Mexico (PRWEB) November 01, 2013
The owner of the luxury condo, Mr. Ken Karnes from Denver Colorado, loved the location and layout of the condo, but wanted to put his own touches on it. This is where PlayaBuilder came in.
Construction in Playa del Carmen can be tricky. Mr. Karnes has spent the last 25 years as the owner of a company that specialized in high end residential audio/video solutions in Denver, Colorado. Like many who come and fall in love with the area, he knew from the beginning that Playa del Carmen was the place he wanted to have his second home, but was unsure that there was a builder that could fill the very specific needs he required.
Some of the details of the project involved really putting a tropical touch on this high end condo. First, the entire ceiling was done with a local hardwood called Haya. It created a tropical feel that goes perfect with the paradisiacal surroundings. Then he took that same tropical wood and designed his own custom built furniture around the condo, giving it a personal touch that took it to the next level.
Mr. Karnes was not done there. Granite imported from Brazil, lighting fixtures from some of his favorite glass artists in the US, and of course an audio/video system that is unmatched in the entire area. When Mr. Karnes was looking for a builder in the Riviera Maya, he could never have imagined that he would get one that could fill all of these needs.
"The key is not having all the answers" says Johnny Miranda, superintendent of the project, "the key is asking the right questions and knowing where to find the answers."
Playabuilder seems to have another very satisfied customer.