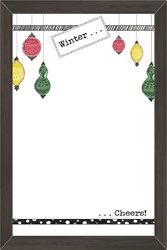 Arvada, CO (PRWEB) October 31, 2013
Tailor Made Whiteboards, maker of customizable dry-erase boards for the home, will present new fall, winter, and holiday designs at the Colorado Country Christmas Gift Show at the Denver Mart, November 8 – 10. Special offers and savings will be available to shoppers who stop by the company's booth over the three-day show. A Tailor Made whiteboard makes a thoughtful gift for busy families trying to organize and simplify their lives. Customizable Activity Planners, Chore Boards, and Menu Planners are designed to be highly effective and to complement each family's unique needs and home décor.
"This is a chance for shoppers to see the high quality of our decorative, solid wood-framed home whiteboards," says Becky Roche, Marketing Manager for Tailor Made Whiteboards. "They are as beautiful as they are functional, making them a unique gift that can be personalized to suit anyone on your list." Tailor Made Whiteboards sells its custom, home dry-erase boards directly to consumers on its website, http://www.tailormadewhiteboards.com. The Colorado Country Christmas Gift Show will offer shoppers the chance to see how the company's unique Quick Change whiteboard works. The innovative Quick Change design allows homeowners to easily change the function, colors and look of the board by purchasing a new Graphic Panel to fit their existing dry-erase board, creating an economical alternative to replacing the entire board.
---
Tailor Made Whiteboards makes high-quality whiteboards to organize the activities of hectic households. The company's dry-erase Chore Boards, Activity Planners, and Menu Planners can be personalized to match any home's unique décor, and can be easily changed and updated over many years of use without ever buying a new one. All the company's products are built in the USA and guaranteed to wipe clean and remain stain-free over many years of use. For more information call 1-888-280-9494 or visit http://www.tailormadewhiteboards.com.