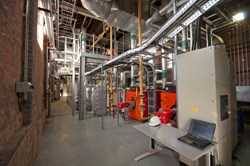 ENER-G's trigeneration system at the prestigious Museum of Liverpool guarantees annual energy savings of more than £500,000.
(PRWEB UK) 31 October 2013
ENER-G designed, manufactured and installed the energy centre, which serves all the museum's energy needs. It incorporates two 385kW bio-diesel CHP units, two 768kW natural gas CHP systems, two 850kW boilers, a 1000kW absorption chiller and a 998kW conventional compression chiller.
One of the innovative features of the project is that the two biodiesel units installed are able to run on different types of biodiesel(to Bs En14214) which can be obtained from renewable sources.
The Energy centre solution is capable of 'black start' operation. This involves utilising the biodiesel CHP units first, in the event of an electric grid failure, to accept the museum initial loads and then following up with the larger gas CHP units once they are ready to accept load. The biodiesel units can also run to provide lower CO₂ electricity as and when required.
ENER-G was commissioned by National Museums Liverpool to design and install the new CHP system at the Mann Island site – part of the famous Pier Head at the core of the World Heritage Site on Liverpool's famous waterfront.
The CHP system is split between a plant room in the new building and the historic Great Western Railway Goods Shed (GWR). ENER-G has converted the Goods Shed into a state-of-the-art energy centre with sophisticated remote monitoring (SCADA) and diagnostic facilities.
Challenges faced included preserving the GWR building exterior in line with planning conditions and designing the energy centre to operate independently of the utility electrical supply.
The CHP system provides the lead power supply for the site, meeting all of the Museum's daily requirements for heating, cooling and power. The utility grid supply provides additional back up, if required.
The Liverpool Museum project was funded via a Public Private Partnership (PPP). The Museum's PPP was jointly funded via The Cooperative Bank under a 17-year agreement, which includes operation and maintenance by ENER-G. As such, ENER-G provides a dedicated service engineer as part of the agreement which ensures the unit is operating efficiently and that any problems can be dealt with quickly. It also help to reduce the risk of the museum incurring any additional expenditure and keeps running costs to a minimum.
Remote monitoring allows continuous operation, monitoring and communication between the site and ENER-G.
Further information: http://www.energ.co.uk/chp