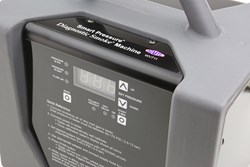 The WV711 will be unveiled at AAPEX in Las Vegas November 5-8 at the Sands Expo Center at Booth #1058.
Huntington Beach, CA (PRWEB) November 04, 2013
Vacutec's new WV711 is designed especially for leak testing turbocharged systems in the automotive aftermarket. It finds all leaks -- even high pressure leaks. Using patent pending Smart-Pressure™ technology, the smoke machine delivers the densest smoke at any pressure setting.
With contaminant-free UltraTraceUV® dye solution, the WV711 finds all high pressure leaks, even those you cannot see with smoke alone. The velocity of smoke exiting a leak at high pressure makes it virtually impossible to see with the naked eye. But UltraTraceUV® deposits a special, patented ultraviolet dye at the exact spot of a leak. If you see the dye, you've found the leak.
Easy digital pressure settings allow for precise settings without having to fumble with analog regulators. The all-digital unit is self-calibrating and fully adjustable from 0 to 43 PSI (0 - 3 bar). It also quantifies leaks with pressure decay (PSI/bar) and flow rate.
The WV711 will be unveiled at AAPEX in Las Vegas November 5 - 8 at the Sands Expo Center at Booth 1058.
Worldwide Vapor designs and builds Vacutec® branded leak detection equipment for the automotive market using STAR EnviroTech's Diagnostic Smoke® vapor technology. STAR technology is inside 100% of all the OEM-mandated smoke machines in the world and in more products from tool & equipment manufacturers and distributors than all of its competitors combined.
For more information on Vacutec's New WV711 High Pressure Turbo Smoke Machine, visit http://www.vacutec.com or call 1-888-VACUTEC (822.8832), 714-438-1387 outside the USA.
Editor: For more information, photos, interviews or tech tips, contact Phil Sasso by email phil(at) prnewsbureau(dot)com or call 847.451.2246.