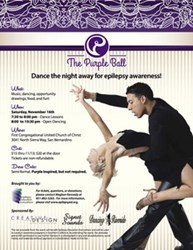 San Bernardino, CA (PRWEB) October 31, 2013
On Saturday, November 16, 2013, Epilepsy Education Everywhere will be presenting its 4th Annual Purple Ball to raise funds for epilepsy awareness education. Epilepsy Education Everywhere, a non-profit organization, will be teaming up with World Gardens Café to provide food and fun throughout the evening. The event will be held at First Congregational United Church of Christ in San Bernardino, from 7:30-10:30 pm.
From 7:30-8:00 pm on Saturday, November 16th instructors from Dancing in Riverside will be giving dance lessons to attendees. The rest of the night will include open dancing, raffles, and food. World Gardens Café will be providing delicious, wholesome food, including Caribbean Style Vegetable Chicken, gluten-free rice, and healthy, gourmet appetizers.
World Gardens Café and Epilepsy Education Everywhere are pairing up in order to promote health and health awareness everywhere. World Gardens Café is an advocate for health and nutritious eating and is educating people throughout the nation how to eat a better diet. Epilepsy Education Everywhere takes the knowledge and experience of epilepsy to schools, civic groups, health fairs, and businesses. The Purple Ball is being held in recognition of November as Epilepsy Awareness Month.
World Gardens Café's main goal is to revolutionize how Americans eat, and give consumers a quick and healthy alternative to fast food. World Gardens Café is the premier provider of delicious and flavorful home-delivered fully prepared healthy gourmet cuisine. They specialize in providing healthy, gourmet, gluten-free frozen meals to clients in California, Arizona, Nevada and Utah. All the gourmet food is prepared by Chef Ravi and the World Gardens team in the kitchen and then carefully packaged, frozen, and delivered to the consumer's homes. Customers can purchase food online or via phone, and have the convenient option of delivery or local pickup at Foothill Kitchens in Upland, CA.
People interested in learning more about World Gardens Café's healthy gourmet food can visit http://www.WorldGardensCafe.com or call 1-800-381-8219 for more information.
For more information, or to attend the Purple Ball, please contact Meghan Kennedy at 951-892-5265 or visit http://www.epilepsyed.org/.