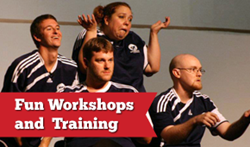 Stoughton, MA (PRWEB) October 31, 2013
TeamBonding is now working with ComedySportz and the Do Good Bus to bring more laughs and goodwill to the already diverse and wide selection of programs. ComedySportz knows funny. They've been hired by many of the world's leading corporations, many of which were found on last year's Fortune 500 companies list. TeamBonding is confident the new TeamProv with Comedy Sportz program will be engaging, meaningful, and most of all: fun.
When Owner David Goldstein was asked, "Why did you want to work with ComedySportz?" his reply was this: "I went to see the show in Philadelphia and it was so entertaining and fun for us all and the thought that Boston which loves sports and loves improv didn't have a troupe made it almost a no-brainer as far as what I wanted to bring to my city. Now a few months later we open in a great little theater in Somerville and have integrated it with TeamBonding. Another benefit is that we have access to improv performers all over the country and now internationally for our team building programs to assist and potentially lead."
The Do Good Bus was created to bring people together to do charitable work and to help their community. After an 11,000 mile journey around the United States this bus along with the help of 750 volunteers was able to help 25 different causes. Teamwork and altruism are the heart of this organization and we are proud to be able to bring this experience to our clients.
David's comments on the partnership with DGB were as follows, "I have been working on new programs all year and sometimes one comes along that is so perfect we have to get involved. That is how I see the Do Good Bus. We have many charitable programs, but this is different, this brings us and our clients out into the world, outside the hotel ballroom to really get our hands dirty and do some good. The idea that it can pick up the client at their office, feed them, entertain them, do some good, build their team and bring them back 5 hours later- had to do this."
About Teambonding
TeamBonding.com is a unique corporate event planning company. We appeared on the Inc. 5000 list from 2007-2009 and in 2012. With over twenty years of experience we have dedicated our mission to forging authentic bonds between members of corporate teams. Through the "power of play" we set ourselves apart. With cues taken directly from children we see how the simple act of playing helps them grow and form true and lasting friendships. Headquartered in Stoughton, MA, TeamBonding has facilitators in nearly every major city of the U.S. For more information, please visit teambonding.com.