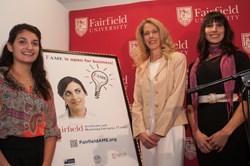 Catherine Smith, Commissioner of the Connecticut Department of Economic and Community Development, said, "I applaud Fairfield University for taking this bold step."
Fairfield, Connecticut (PRWEB) November 01, 2013
A specialty bakery, a green living consulting firm and an electronics design company with a home automation solution are the first 'client companies' of the Fairfield University Accelerator and Mentoring Enterprise, an endeavor that aims to help idea makers become successful entrepreneurs and business owners.
The promising entrepreneurs behind those business ideas were introduced at a grand opening ceremony for the new business incubator, also known as FAME (http://www.fairfieldame.org), held this week at the FAME Suite in downtown Fairfield, Conn., an event attended by governmental officials, business leaders and the Fairfield University community. An effort to nurture start-ups and foster economic development, it is a collaboration of Fairfield University's Charles F. Dolan School of Business, the Town of Fairfield Economic Development Department, and Kleban Properties.
"Welcome to the Connecticut innovation ecosystem," Catherine Smith, Commissioner of the Connecticut Department of Economic and Community Development, said at the event. "I applaud Fairfield University for taking this bold step, and for being a part of this exciting initiative to accelerate the creation and growth of innovative companies and industries in our state."
FAME aims to offer innovators the tools they need – from guidance to funding to prime downtown office space behind the Fairfield University Bookstore – to turn their ideas for promising new products, companies and technologies into realities.
The first group of FAME clients range in age from 22 to 51; they were chosen by a review board in a competitive selection process. They are:
Daphne Dixon, of Fairfield, Conn., who got her business idea when she was just ten years old. "I founded 'Conscious Decisions,' a socially responsible business venture, to educate the public on sustainable and eco-friendly living practices," said Dixon, a UCLA graduate who founded the annual Fairfield County Green Faire, among many other events.
Nicole Juliano Peranick, of Stamford, Conn., is a graduate of the Dolan School of Business and the French Culinary Institute with a background in corporate brand marketing. She plans to establish "With Love From The Cupboard, Inc." in Westport, Conn. She describes it as "a 'baked to order' dessert purveyor that unlocks old world, secret family recipes to deliver truly customizable service and enchanting flavors with the comforts of home."
Jamie Ramerini, of Fairfield, Conn., a 2013 graduate of Fairfield University, and Fairfield's School of Engineering senior Diego Mamani are collaborators on BluStrip by Watt U Control, a smart power strip to coordinate home automation. The company can be described as an electronics design firm with a low cost home automation solution. It had its origins in the student Business Plan Competition at Fairfield. "We seek to make affordable home automation a part of everyone's life," said Ramerini, a finance major who now works for Merrill Lynch.
Donald E. Gibson, Ph.D., dean of the Dolan School, said, "There are many incubators in the state. Many are University-run, some are commercial enterprises, some driven by cities. This incubator is different. It is a true partnership between a University, the town of Fairfield, and the business community. This initiative represents a new model in how collaboration can help to foster vital economic growth ideas for Fairfield County and beyond."
During the three-month programs, the FAME client companies will be mentored by business community members and faculty led by Chris Huntley, Ph.D., associate professor of information systems & operations management, and Diane Salerno, of Kleban Properties. (The office space comes courtesy of Kleban.) These mentors will help the client companies develop their business plans so they can eventually present them to angel investors and venture capitalists to seek start-up funding.
At the event, the budding entrepreneurs mingled with an array of people who have been central to FAME. Those attending the opening included Fairfield University President Rev. Jeffrey P. von Arx, S.J.; Michael Tetreau, First Selectman of Fairfield; Albert Kleban and Ken Kleban, who came up with the incubator idea; State Sen. John P. McKinney; Rep. Kim Fawcett; Rep. Brenda Kupchick; aides to U.S. Senator Chris Murphy and U.S. Congressman Jim Himes; Mark S. Barnhart, director of Community and Economic Development for the Town of Fairfield; Chris Bruhl, of The Business Council of Fairfield County; and Paul Timpanelli, of the Bridgeport Regional Business Council.
#
Fairfield University is a Jesuit University, rooted in one of the world's oldest intellectual and spiritual traditions. More than 5,000 undergraduate and graduate students from 36 states, 47 foreign countries, the District of Columbia and Puerto Rico are enrolled in the University's five schools. In the spirit of rigorous and sympathetic inquiry into all dimensions of human experience, Fairfield welcomes students from diverse backgrounds to share ideas and engage in open conversations. The University is located in the heart of a region where the future takes shape, on a stunning campus on the Connecticut coast an hour from New York City.