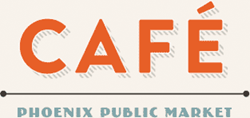 "Corn is one of our best shots at a sustainable Southwest agriculture in the 21st century and now we get to enjoy it, brought into a whole new food scene - this isn't Iron Chef it is Corn Chef." says Native Seeds/SEARCH Executive Director McDorman.
Phoenix, AZ (PRWEB) October 31, 2013
Proving once again that no one puts the farm in farm-to-table like the Phoenix Public Market Café, this casual yet food-forward café will be hosting a corn tasting dinner on November 17. Named the Amaizing Sense of Place Dinner, this culinary can't-miss will feature four chef-crafted courses (plus beverage pairings and "bocaditos")—all highlighting the authentic Southwestern flavors of this centuries-old Southwestern staple. Even better, while savoring the traditional tastes of the Southwest, guest will also be supporting the non-profit Native Seeds/SEARCH organization and its efforts to conserve, distribute and document the adapted and diverse varieties of agricultural seeds, their wild relatives and the role these seeds play in cultures of the American Southwest and northwest Mexico. In other words, Native Seeds is helping preserve the native flavors and traditions of uniquely Southwestern crops first grown and harvested by pre-historic settlers.
"I see this as an incredible opportunity to blend the history of corn in the Southwest, the education of Native Seeds/SEARCH and the legacy of the Phoenix Downtown Market," says Aaron Chamberlin, Owner Phoenix Public Market Cafe.
Reservations can be made by calling 520-622-0830 ext. 100. Tickets are $150 per person, with a full 50% of the cost tax deductible. Vegetarian options are also available.
When: Sunday, November 17 at 6 pm
Cost: $150 per person (50% of the price of the meal is tax deductible)
Where: Phoenix Public Market Café
14 East Pierce Street
(Central Avenue & McKinley Street)
Phoenix, AZ 85004
602-253-2700
http://www.phxpublicmarket.com
Who: Local foodies, seekers of authentic Southwest flavors, and anyone else interested in attending this refined dinner featuring modern dishes prepared with historic Arizona crops.
About Phoenix Public Market & Phoenix Public Market Café
The Phoenix Public Market is home to the state's largest open-air market, open every Wednesday evening and Saturday morning, rain or shine, and boasting 100 vendors. In 2013, the Phoenix Public Market debuted a full-time, on-site Café. Brought to life by the team responsible for St. Francis restaurant (Aaron Chamberlin, David Chamberlin and Amy Del Real), the Phoenix Public Market Café is a natural extension of the Market's efforts to bring the Valley's food community closer together. At the Café, this translates to market fresh cuisine crafted with seasonal ingredients, many sourced directly from the adjacent farmer's market. Phoenix Public Market Café serves breakfast, lunch, and dinner, seven days a week (7 am - 10 pm) out of a handsomely remodeled space. Guests can grab a cup of joe at the coffee bar, order some tasty takeout, savor a gourmet-yet-affordable sit-down meal, or simply relax over a glass of wine on the expansive outdoor patio.
About Native Seeds/SEARCH
Founded in 1983, the Tucson, Arizona-based seed conservation nonprofit Native Seeds/SEARCH (NS/S) preserves and shares the indigenous agricultural seeds of the desert Southwest. Contained within the organization's state-of-the-art seed bank is a living collection of nearly 2,000 crop varieties adapted over centuries by Native Americans and early settlers to the region. NS/S works across diverse areas in seed conservation, distribution, and education to ensure this precious diversity is kept alive, available, and in use across the Southwest and beyond.