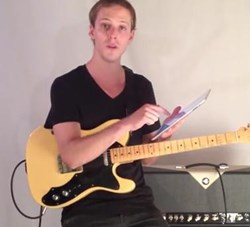 particularly as guitar players we tend to get on our instruments and maybe noodle or jam
(PRWEB) November 01, 2013
"Every month I set for myself practice goals and things I'm going to be working on," says MacLennan, he continues to talk about how "particularly as guitar players we tend to get on our instruments and maybe noodle or jam." Jon says "if you are trying to get the most out of your playing you have to be a little bit more structured and have a focus." Jon demonstrates how he uses his iPad to keep track of and structure his monthly practice routine by keeping a list of the songs, styles, and techniques he will be working on and logs the tempos at which he worked at. Using a metronome is an important part of productive and successful practice.
A metronome is a device that produces audible "clicks" that are measured in beats per minute that helps musicians keep in time. The metronome dates back to the 19th century when it was patented by Johann Maelzel in 1815.
Keeping a log of your practice sessions not only helps you make and keep goals, but you can also see and keep track of your progress and is a sure fire way to help to improve your guitar practice sessions and overall progress as a student of the guitar.
Jon MacLennan
Los Angeles based guitarist Jon MacLennan began his career at the age of 16 and is one of the busiest upcoming session guitarist, artist, composer, producer, and professional educator in LA. Jon has done session work for Julian Lennon, Steven Tyler, and British pop star Jamie Cullum. He has appeared on Disney channels "The Suite Life of Zack and Cody" and on the sound track to the movie "Marley and Me 2 – The Puppy Years". MacLennan earned a bachelor's in ethnomusicology and jazz guitar studies from University of California, Los Angeles, and has been mentored by Carl Verheyen, Wolf Marshall, Kenny Burrell, Anthony Wilson, Tamir Hendelmen, Jimmy Wyble and Ron Anthony which has made him a highly sought after guitar instructor today.
About GuitarControl.com
GuitarControl.com is the leader in modern guitar instruction. It's packed with recourses including articles, video lessons, and the best videos in the business for the beginner to the advanced guitar student taught by the best instructors out there. Weather you are into the blues, rock, jazz, metal, folk, or anything in between, they have you covered.