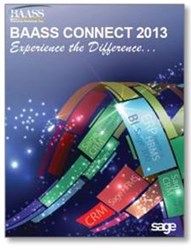 Throughout the past year, we've had the opportunity to meet and engage with a number of prestigious companies and customers.
Edmonton, Alberta (PRWEB) November 01, 2013
BAASS Business Solutions Inc. (BAASS), a distinguished North American Sage ERP partner, celebrated the success of its 16th annual conference called BAASS Connect (formerly Accpac Live) on October 24th, 2013 in Edmonton.
After operating under the Accpac Live name for 15 years, BAASS has rebranded the conference as BAASS Connect to reflect the need to create a more connected business environment. The rebrand highlights the opportunity attendees had to connect with fellow software users, product experts, support analysts, and product leaders—all under one roof. The new conference location, the Holiday Inn Conference Centre in Edmonton, served as the ideal setting for establishing new and lasting business relationships benefiting all parties.
The conference featured speakers who engaged attendees on a variety of topics including Human Resource Management Systems (HRMS) and Customer Relationship Management (CRM). The professional team at BAASS showcased how businesses can manage their internal relationships using HRMS while managing their external relationships using CRM.
This year's award winners included Manus Abrasive Systems in the category of "Growing with Sage" and Merit Contractors Association in the category of "CRM Excellence". Manus Abrasive Systems, Canada's largest supplier of abrasive blast equipment with over 20 active ERP users, streamlined their sales and marketing processes with Sage CRM, which they fully integrated with AutoSimply Manufacturing and Orchid's Process Scheduling. Merit Contractors Association, a provider of Health and Safety training related courses for the Construction industry, was awarded the "CRM Excellence" award for fully adopting Sage CRM across the organization and utilizing it as the hub of their business. By integrating Sage CRM with their online ecommerce platform and Sage 300 ERP software, Merit has adopted CRM as a comprehensive business strategy.
"Throughout the past year, we've had the opportunity to meet and engage with a number of prestigious companies and customers," said Joseph Arnone, President of BAASS. "We're extending this token of appreciation to commemorate outstanding achievement and creativity in the use of software as a tool toward greater efficiency and effectiveness in the use of available resources."
During the conference, more third party exhibitors were given a chance to showcase their solutions. This year's conference exhibitors included BI Metrix, Iciniti, Industrios Software Inc., Manusonic, North 49, Rob Lavery & Associates, and XM Developments.
The Edmonton Conference marks the first of four conferences spanning the country. Please join us next in London, Burlington, and Toronto, Ontario on November 12th, 13th, and 14th respectively to partake in the largest Sage partner Conference in North America. Stay connected by following us on Twitter for the latest updates on #BAASSConnect_2013.
###
About BAASS Business Solutions Inc.
Established in 1988 and this year celebrating its 25th year in business, BAASS has been successfully assisting small and medium sized businesses improve their business processes, increase productivity and efficiency, and become more profitable. Our dedicated team of professionals have earned a reputation for their expertise, professionalism, and integrity serving clients throughout North America, Latin America, and the Caribbean. BAASS has been recognized within the industry on numerous occasions for excellence in customer service and has earned top 1% position in net promoter score. However the real proof is what our many satisfied clients have to say about us. As a full-service technology consulting firm, we can offer, implement, and support end-to-end solutions that work for our clients now, and in the long term. Our comprehensive range of services includes needs assessment, management consulting, system design and configuration, software training, and technical support in accounting, ERP, CRM, HRIS, e-business, business intelligence, and custom solutions.