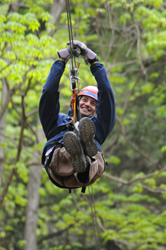 (PRWEB) October 31, 2013
This November, outdoor adventure outfitter Zoar Outdoor is making that short vacation getaway even more affordable by offering a zip and stay deal through group discount site Zozi. The deal, good for 2 guests on Zoar Outdoor's Deerfield Valley Canopy Tours and a night of lodging at Hawk Mountain Lodge, runs for only $135, making it a great adventure that won't break the bank.
Zoar Outdoor's three hour long Zip Line Canopy Tour provides both sights and thrills. The trip starts out with an introduction to the gear, followed by a drive up to the top of Hawk Mountain, where the real adventure begins. Throughout the course's 11 zips, two sky bridges, and 3 rappels, guests can take in the beauty of the Berkshires and the Deerfield River Valley. Falling leaves coat the floor and gaps in the foliage create extended views not available at the height of summer. As the trip goes on, the excitement ramps up, leading to the longest zip of the day: Quickstep. Over two football fields in length, this zip gets guests flying through the air at speeds up to 30mph.
After enjoying a day in the trees, guests can unwind in their room at Hawk Mountain Lodge. The renovated farm house provides a homey space where people can disconnect from all the distractions and reconnect with each other. Restaurants and cultural attractions await the curious as close as 15 minutes away in the many quintessential New England towns of the Berkshires.
For more information or to book, visit zoaroutdoor.com or call 1-800-532-7483.