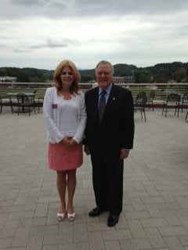 Paulding County, GA (PRWEB) November 01, 2013
State Representative Paulette Rakestraw Braddock (R-HD19, Paulding County) took an active role in Governor Nathan Deal's Competitiveness Initiative at the University of North Georgia in Dahlonega last week. The Competitiveness Initiative is a forum for state government and the business community to work together to grow Georgia's economy.
Governor Deal spoke to the group about his strategic approach to growing jobs to make Georgia's economy more vibrant. This public/private approach to making Georgia more competitive has helped Georgia become the economic leader of the South — with an enviable logistics system, top-tier research universities, world class technical education, a robust agricultural sector, abundant natural resources, and a positive global reputation — all of which contribute to our ability to attract, retain, and grow both jobs and investment.
The strategic plan to improve its business climate will position Georgia to be more competitive for decades to come, and will ensure a bright future for its citizens.
"I'm honored to have a chance to participate in this Initiative," said Rep. Braddock. "This strategy absolutely supports my passion for job creation and small business growth."
The Governor's Competitiveness Initiative held three meetings around the state to talk with members of the business community.
Rep. Rakestraw Braddock, Paulding County's first female legislator, represents the citizens of District 19 in Paulding County. She was elected to the House of Representatives as the Vice Chair for the Science and Technology committee and serves on the Special Committee for Small Business and Job Creation, Special Rules, Juvenile Justice, and Economic Development Committees.