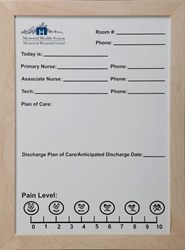 Arvada, CO (PRWEB) October 31, 2013
Stonehouse Signs, a Colorado manufacturer of customizable visual communication products for safety and operational efficiency, has introduced a new product for hospitals, surgery centers and other medical facilities. The new Quick Change Hospital Patient Room Dry-erase Boards are a cost-effective solution that can be adapted to frequent operational changes without requiring the purchase of new whiteboards. In addition to meeting the needs of medical facilities, the company's products are used in a wide range of industries, including telecommunications, oil and gas, construction, and even skiing.
"Hospital administrators are frustrated by having to order new dry-erase boards almost annually due to changes in procedures or floor plans," says Jeff Stone, current co-owner of Stonehouse Signs. "With our new Quick Change design, facilities only need to order new Graphic Panels to update their existing boards, saving time and money." The new Quick Change frame is made from durable solid wood in maple, oak, walnut or black and is made to last.
Unlike traditional, porcelain whiteboards that are made by baking the design into the board itself, Stonehouse Signs' new Quick Change whiteboards have a digitally-printed Graphic Panel that sits behind a clear plastic dry-erase pane. When a business needs the whiteboards to serve a different function, the company simply orders new Graphic Panels to insert into their existing boards. Stonehouse Signs' high-quality dry-erase boards are designed to last for many years, with a stain-free surface that is guaranteed to easily wipe clean and never ghost, making them easy to read for patient safety.
###
Since its founding in 1863, Stonehouse Signs has produced high-quality visual communications solutions for industry, government and institutions. The company specializes in customizable products for safety and accident prevention and manufactures a full line of safety signs, facility signs, dry-erase boards, lockout tags and decals designed for extended outdoor life, harsh environments and demanding applications. For more information call 1-800-533-9914 or visit http://www.stonehousesigns.com.