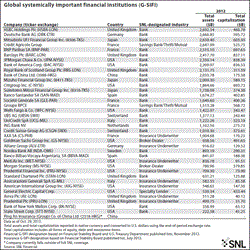 (PRWEB) November 01, 2013
With a new list of global systemically important financial institutions (G-SIFIs) set to be published in November, the industry waits with baited breath to see if the Financial Stability Board (FSB) amends the 2012 list.
The list of G-SIFIs, published by the FSB, has expanded since the publishing of the initial list in November 2011. The list contained 29 banks and extended in July 2013 to include global systemically important insurers (G-SII). The latest list includes 38 companies from both the banking and insurance industries. Companies listed as a G-SIFI are seen by regulators to pose a threat to the global economy if the company were to fail. For both banks and insurance companies, a G-SIFI designation earns a company certain capital requirements and additional regulatory supervision.
For banks, a list of global systemically important banks (G-SIB) will be published annually in November. With the issuance of each list, the FSB has discretion to add and remove banks. The November 2012 list saw three companies removed and two added. The FSB removed Belgian-based Dexia SA, which is currently undergoing a reorganization, and both German-based Commerzbank AG and British-based Lloyds Banking Group Plc "due to a decline in global systemic importance." Spanish-based Banco Bilbao Vizcaya Argentaria SA and British-based Standard Chartered Plc have been added to the list.
Excerpt:
Of the 38 companies, the U.S. is home to 12 including the two G-SIFIs with the highest total capitalization, JPMorgan Chase & Co. and Bank of America Corp. Both companies have been in the news lately due to settlements associated with the financial crisis. JPMorgan's settlement with the U.S. Justice Department and private investors is still pending for $13 billion and $5.75 billion, respectively. Bank of America finalized settlements with bond insurer MBIA Inc. for $1.66 billion, Fannie Mae for $10.2 billion and $2.9 billion with the OCC and Federal Reserve Board.
General Electric Capital Corp. is one of the newest companies to be designated as a G-SIFI and felt prepared to take on the new challenges that comes with the designation. As mentioned in GE Capital Corp's 10-Q, "…as we expected the nonbank SIFI designation, GECC has been planning for the enhanced prudential standards that will apply to nonbank SIFIs." The company also stated that since the rulemaking has not yet been finalized, GECC cannot state the exact impact of the SIFI designation on the company.
For the full report, visit http://www.snl.com/InteractiveX/Article.aspx?cdid=A-25415862-11824.