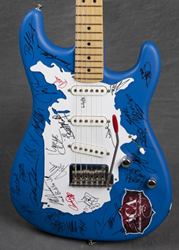 Signed by Carrie Underwood, Rascall Flatts, Trace Adkins, Blake Shelton and many more!
Orange County, CA (PRWEB) November 04, 2013
Escrow.com, the pioneer of online escrow services, is pleased to announce that they will be selling several high-end guitars during the upcoming SEMA Show in Las Vegas. The highlight of the sale is a custom Fender Stratocaster that is one of 27 that were built for the 2010 American Country Awards; 25 of the guitars were awarded to artists during the ceremony and only two award guitars were signed by various celebrities, including the likes of Carrie Underwood, Rascall Flatts, Trace Adkins, Blake Shelton and many more.
The guitar, and another with a racing theme signed by a NASCAR driver and certified by NASCAR, will be listed for sale on Reverb.com through November 10, 2013, and will be on display in the Escrow.com booth (#50326) at the private SEMA Show in Las Vegas. Once the guitar is sold, Escrow.com will waive all escrow fees to the winner and the Foundation as the funds are paid through Escrow.com's safe and secure escrow payment system. All proceeds of the sale of these guitars will go to benefit The Fender Music Foundation.
Andrew K. Sokol, General Manager of Emerging Markets at Escrow.com, also sits on the Board of The Fender Music Foundation, said, "Auctioning a guitar at SEMA makes perfect sense to me. The Auto Industry has relied heavily on music in their advertising - remember Chevy's use of Bob Seger's 'Like a Rock' and Levi's using 'Always on My Mind' by Willie Nelson? Musicians love cars as well – from the Beach Boys '409' to Springsteen's 'Pink Cadillac', cars have been, and will continue to be, a big part of music for years to come."
Escrow.com's services are available worldwide and eliminate risk for sellers (manufacturers/wholesalers), for non-payment, and buyers (distributors/retailers), for non-delivery or misrepresentation of goods. When using the service, both parties agree to the terms online and the buyer sends the agreed-upon funds to Escrow.com. The company then verifies the payment and instructs the seller to ship the goods. Upon delivery, the buyer has a pre-determined amount of time to inspect and accept the goods. Once accepted, the funds are released by Escrow.com to the seller. The cost of using Escrow.com is extremely reasonable in comparison to other payment options and can either be paid in full by one party or split evenly between the seller and the buyer.
"We pride ourselves in supporting organizations such as The Fender Music Foundation," says Brandon Abbey, Escrow.com President and Managing Director. "In addition, we also support the Orange County Supports Our Troops Foundation and will be sponsoring a golf tournament on November 11, 2013, which happens to be Veterans Day. Last year, we raised over $120,000 – this year our goal is to exceed that mark," continues Abbey.
The Fender Music Foundation is a public 501c3 charity that provides musical instruments to programs across the nation. They select grant recipients based on the sustainability and success of their music programs that give more people the opportunity to make music. The Fender Music Foundation operates from funds received through sales, including transactions through their online store where the public can purchase authentic celebrity music memorabilia.
Lynn Robison, Executive Director of The Fender Music Foundation said, "Escrow.com continues to be a great supporter of our efforts to save music education. We look forward to doing more with Escrow.com and other companies that have stepped up to the plate to help us meet our goals." He adds, "I'd also like to thank the folks at the American Country Awards and NASCAR for their help in making this all happen."
"The Fender Music Foundation is an important organization and we are glad to support their efforts," said David Kalt, CEO of the Chicago Music Exchange. "Reverb is willing to waive the fees on this auction and the Chicago Music Exchange is going to donate 5% of the auction price to the Foundation," continues Kalt.
SEMA Show attendees can view the guitars at the Escrow.com booth (#50326) at the Las Vegas Convention Center. This annual automotive specialty products trade event attracts more than 100,000 industry leaders from more than 100 countries in the automotive, truck and SUV, powersports, and RV markets.
To purchase or make an offer on the ACA autographed guitar, please visit http://www.reverb.com/aca. To purchase or make an offer on the NASCAR themed guitar, please visit http://www.reverb.com/nascar.
About Escrow.com
Headquartered in Rancho Santa Margarita, CA, Escrow.com, a privately held company, has pioneered the process of online escrow services. The Company, founded in 1999 by Fidelity National Financial, has established itself as the leading provider of secure business and consumer transaction management on the Internet. All escrow services offered on this Website are provided independently and exclusively by Internet Escrow Services(SM) (IES), one of the operating subsidiaries of Escrow.com. IES is fully licensed and accredited as an escrow company and is subject to compliance with all applicable nationwide escrow regulations.