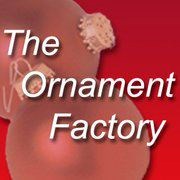 The Ornament Factory is one of the largest inventories of Hallmark Keepsake Ornaments.
Brimfield, OH (PRWEB) November 01, 2013
In some places, snow has already fallen. Before long, it will be everywhere and dominating news stations. Although people will soon be busy scraping the ice off their cars or shoveling the snow in their driveways, their minds will be focused on one thing: "Christmas is coming. I better get ready."
Most people are never prepared for the assault that is Christmas, which is why The Ornament Factory is excited to announce that it is now offering free U.S. shipping for orders over $60, so if hobbyists or Christmas aficionados are missing out on a Hallmark Keepsake Ornament from a particular year or their collection is missing an important piece, now is the time to strike.
If an ornament collector hasn't been able to find a particular 2013 ornament at the local Hallmark Gold Crown Store or if there isn't a Gold Crown Store nearby, please see the Ornament Factory's huge selection of 2013 ornaments, including many of the rare limited edition, club, register to win and exclusive event ornaments. If an ornament collector missed an ornament from last year, The Ornament Factory still has a huge selection of 2012 ornaments still available to choose from.
The Ornament Factory's inventory of Hallmark Keepsake Ornaments is just as varied and diverse as their wonderful customers are! Recognizing the uniqueness of each customer has allowed The Ornament Factory to deliver top-notch customer service time and time again. No matter what a customer's interests are, from Disney to The Wizard of Oz, Star Wars to Peanuts, Lionel Trains to Star Trek, The Ornament Factory has it covered.
As one of the Internet's largest providers of retired and current year Hallmark Keepsake Ornaments, The Ornament Factory is able to help that hobbyist or Christmas enthusiast acquire the perfect ornament to add to or finish off any collection. With low prices, a quick turnaround and now free U.S. shipping for orders over $60, The Ornament Factory is making sure that everyone's holiday season will be a fun-filled and affordable one.
About The Ornament Factory: The Ornament Factory's goal has been a simple one: sell Hallmark Ornaments at the lowest prices while providing great customer service. Owner Andrew Davis first became interested in Hallmark Ornaments in the late 1970s, turning that passion into one of the world's largest inventories of those ornaments.