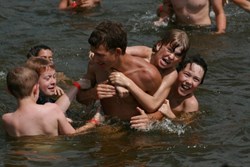 "We wanted to take advantage of this proven method (online pre-camp training) to educate and prepare our international staff," said 3 Adventures co-founder Matt Buczek
Exeter, NH (PRWEB) November 05, 2013
Thousands of youngsters at summer camps in the United States are about to enjoy their time in the outdoors even more, thanks to a new partnership between two of the world's top players in the summer camp industry. The counselors and cabin leaders, who come from all over the world, are already enrolled in a virtual classroom…and their teachers are all leading specialists in youth development.
ExpertOnline Training, the front runner in e-learning for youth leaders,has announced a collaboration with 3 Adventures - International Camp Staff to provide their international staff with a rigorous pre-camp training program. The syllabus for this Internet classroom includes a variety of online video training modules, quizzes and handouts that teach new and experienced staff how to better lead, discipline and support the development of boys and girls at summer camp. The hosts of the videos include psychologists, physicians, attorneys and camp directors.
"The decision by 3 Adventures to require pre-camp training further ensures that their staff are better prepared—right out of the blocks—than staff from other companies," noted Dr. Christopher Thurber, the co-founder and Director of Content for Expert Online Training (EOT)."EOT is an educational company with a global vision to elevate the relationship quality between young people and their professional adult caregivers. I believe 3 Adventures shares that vision."
3 Adventures is a full service international staffing agency owned and operated by professional camp directors who have over 50 years of camping experience. The 3 Adventures team offers around-the-clock access to friendly, experienced placement professionals and the highest quality people who are eager to become great camp staff. 3 Adventures is currently the only international placement service utilizing pre-camp training with all of their staff.
"We are a relatively new player in the international staffing business,but our management team is comprised of former camp directors whose programs have subscribed to ExpertOnlineTraining.com in previous seasons. We knew we wanted to take advantage of this proven method to educate and prepare our international staff," said 3 Adventures co-founder Matt Buczek.
"The videos on ExpertOnlineTraining.com offer our staff the opportunity to see and hear American camps in action. The quizzing component allows us to ensure that our staff have understood the content, which is critical for accreditation and safety.Their participation also demonstrates that our staff take the job of being youth development professionals seriously," Buczek added. "They also enjoy the confidence boost that pre-season training provides."