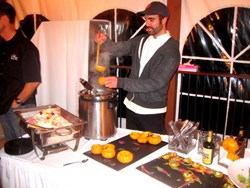 We really wanted to put together an event to show our customers how much we appreciate their commitment to us.
Saratoga, CA (PRWEB) October 31, 2013
"Taste of Fall" came together as a way to both thank clients for their patronage and introduce new products Daylight Foods will soon be selling. These in particular are Guittard Chocolate and Ferrarini Italian meats and cheeses. All of the seasonal produce sourced for the meal was organic from either Coke Farms or Lakeside Organic Gardens.
"We really wanted to put together an event to show our customers how much we appreciate their commitment to us," explained Stephanie Macedo, marketing director at Daylight Foods. "We are also very excited to be carrying new products and wanted to have our clients have the opportunity to sample and tell us their opinion about them."
House Family Vineyards provided a beautiful setting overlooking the Silicon Valley, while Chef Mathieson Jennings from Poplar Creek's Bar and Grill created a wonderful menu paired perfectly with House Family Vineyards Chardonnay, Pinot Noir, Cabernet Sauvignon and Merlot. The dishes included lentil hummus with shaved baby rainbow carrots, watermelon radish and black radish, roasted beets with a blue cheese fondue and candied kumquats, pork loin with turnip puree and butternut squash soup served in baby pumpkins.
Chef Mathieson used Guittard's single origin chocolate to create chocolate truffles, chocolate mousse with a touch of cayenne and chocolate butter cookies with a chocolate mousse filling.
Ferrarini provided a tasting of their products which included prosciutto, mortadella, salami, provolone, parmigiano-reggiano and smoked provolone. These items and more will soon be available from Daylight Foods. Ferrarini is well known in Italy and joins Daylight Food's line of high quality Italian products including pastas, olive oils, and sparkling water.
Daylight Foods is excited to be expanding into new markets including wholesale organic produce, chocolate and Italian meats and cheeses. They are always working to meet the demands of their customers and insure they are providing the best customer service possible.
About Daylight Foods
Daylight Foods is a food distribution company headquartered in the Bay Area. They purchase direct from the most reputable growers and shippers in the industry. Their direct purchasing and high quality standards enables them to continually pass on value to their customers' operations; supplying fresher, higher yielding product. Daylight Foods takes a special interest in local growers and family farms, as well as in "green" technology, to support their local communities and sustainability for future generations.