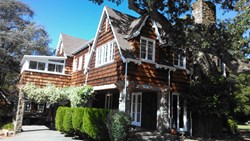 It is a unique setting in the heart of the San Francisco East Bay Area.
(PRWEB) November 04, 2013
United Camps, Conferences and Retreats (UCCR) has announced that one of its retreat centers will remain open through December 2014. The historic site, Westminster Retreat, located in Alamo, California, was slated to close at the end of 2013.
The retreat, owned by the San Francisco Presbytery of the Presbyterian Church (USA), had been on the market to be sold since 2012. The real estate deal that was in process fell through in October. The Presbytery has asked United Camps, Conferences and Retreats to continue to operate the site until further notice.
Westminster Retreat, originally a private estate, was sold to the Presbytery in 1953 and has been operated by UCCR since 1970. It features a large Manor and Carriage House, which accommodate up to 50 guests. Food service in the formal dining room is provided by the non-profit management organization. The property features eight acres of old oaks and is nestled up to Las Trampas Regional Park with views of Mt. Diablo.
The Presbytery sold their camp, Valley of the Moon in Sonoma County, just two years ago. Westminster has also been slated to be sold, though the last two real estate transactions have not come to fruition.
"We are happy to be able to continue to offer this retreat site to groups for another year. It is a unique setting in the heart of the San Francisco East Bay Area," says UCCR president Mike Carr.
The Anderson family who owned lumberyards and redwood forests home built the 8,000 square foot in 1929. The redwood paneling on the first floor was reputedly hand milled. It was built in California craftsman shingling combined with an eastern farmhouse style according to historic documents. The property if located in a quiet, upscale neighborhood and long predates the other homes nearby.
Viki Spain, the Site Director, hopes the property will remain a retreat center, even after it's possible sale. "My dream is that we find a developer who wants to retain this."
So for the time being, at least through 2014, Westminster Retreat will continue to host non-profit group retreats and gatherings.