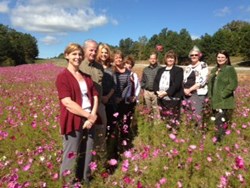 Paulding County, Georgia (PRWEB) November 02, 2013
The Leadership Paulding Class 22 (the twenty-second in the series of classes created to foster effective leadership practices in the county) recently took on a class project to beautify Paulding County. The project, suggested by class member Sam Elrod of Elrod Nursery and titled, "Paulding is Blooming," involved planting flowers on the medians in the main roads going into Paulding County. Elrod headed up the project and it has been heralded throughout the county as a smashing success.
State Representative Paulette Braddock (R-HD19) commented on the how well the project has been received. "Everywhere I go, people are talking about how beautiful the flowers are," she said. "When I tell them it was a project from my Leadership Paulding class, they clearly appreciate our efforts. I commend Sam Elrod because he has overcome adversity to make this project a success. He had to re-plant flowers a couple of times due to the rain and the medians being inadvertently mowed. And he funded a lot of the project himself," said Rep. Rakestraw Braddock. "Sam has exhibited good, old-fashioned American ingenuity and devotion to hard work." The class undertook and planned the initiative and facilitated fundraising to support the effort. The county, in turn, used prison labor to plant the flowers.
The members of the Leadership Paulding class are as follows:
Brian Acker Paulding County Board of Commissioners
Paula Bechtler Kennesaw State University
Paulette Braddock GA State Representative Paulette Braddock
Erica Breazele Olympus Media Inc
Sam Elrod Edrod Garden Center
Jamie Gilbert Paulding Economic Development
Natalie Higgins Hardy Dealerships
Mark Jackson Croft & Associates
Teresa Janiga Visiting Angels
Cathy Ledbetter Georgia Highland College
Clark Maggart Paulding County Board of Edcuation
Kara Marinko Aspen Village at Lost Mountain
Jim McMichen Ragsdale Heating & Air
Tonya McNabb Comfort Keepers
Anthony Murray Oasis Family Center
Carol O'Connell Wellstar Paulding Nursing Center
Doug Osteen Ace Hardware of Dallas
Catherine Owens United Way
Jody Palmer City of Hiram
John Rakestraw Raker Construction
Michael Rickman Flad Architects
Carmen Rollins Main Street Guns, Gold & Pawn
Amy Turner US Senator Johnny Isakson
Paulding residents who would like to see the "Paulding is Blooming" project continue to bloom can donate at http://www.pauldingisblooming.com or can support the cause by purchasing a "Paulding Is Blooming" t-shirt from Teresa Janiga at Teresa@westcobbangels.com or 770-222-7388 x102.
Link to Paulding is blooming website: http://www.pauldingisblooming.com