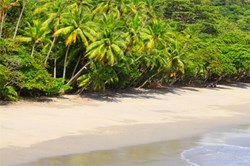 "We are well positioned in the virtual marketplace to become the most prominent vacation rental agency in the area."- Kent Thompson, owner of Manuel Antonio Rental Properties
(PRWEB) October 31, 2013
With the globalization and recent popularity of vacation rental homes and condos in tropical areas such as Manuel Antonio, Costa Rica, there has been an explosion of new companies and websites. As with any market, this increased opportunity—and competition—has created opportunities for strategic alliances and acquisitions between boutique vacation rental agencies.
Manuel Antonio Rental Properties, a relatively new company focused on luxury home, villa and condo rentals in the Manuel Antonio area, has formed a strategy of creating a web of online, related travel sites to capture a larger percentage of the market. While its primary website will continue to be ManuelAntonioRentalProperties.com, the acquisition of similar vacation rental sites like ManuelAntonioVacationProperties.com not only increases its potential 'watershed', but also captures critical domain names which will be in scarcity in the future. These days, domains with single word names are impossible to come by without going through an online auction to purchase—at a considerably higher price than new names. However, longer domains containing keywords related to the industry are also valuable for search engine optimization (SEO).
And that's just it: While short, memorable names like Apple.com are extremely valuable and appeal to broad, worldwide markets, when it comes to niche markets such as travel to specific destinations in Costa Rica—a descriptive domain is more important.
But how will subsidiary websites differentiate themselves from the mother site? In truth—for the consumer--only in style. The object is to create an internet 'funnel', directing potential vacation property renters to the mother site. However, each website may be optimized based on different keywords related to the industry. No single site can hope to capture all of the relevant keywords for online searches; experts recommend focusing on the most important keyword searches, and optimizing the site. Having too many keywords, or a lack of focus on specific keywords, can water down the site's optimization. For example—while the mother site focuses on more general keywords such as 'Costa Rica vacation rentals', subsidiary sites can focus on more specific keywords, like 'Manuel Antonio beach homes'.
These days, if a website is not within the top page of Google—it's effectiveness is reduced greatly. It's better to be on the first page of Google for your top 5 most important keyword searches than to be on the second page of Google for your top 10 keyword searches.
As the landscape of the vacation rental market continues to evolve—successful agencies in niche travel markets must not only find ways to compete in the physical marketplace—but the virtual marketplace, too.