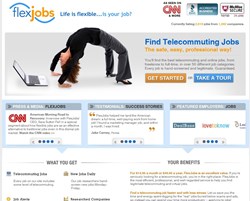 Boulder, CO (PRWEB) November 04, 2013
A recent survey conducted by FlexJobs, the leading site for finding telecommuting and other flexible work options, revealed that 83 percent of the 1,300 respondents said that they would be more loyal to their employer if they had flexible work options.
Adding to that figure, another 46 percent said they have given up or quit a job due to a lack of work-life balance schedules, and another 53 percent know someone who has.
"These are staggering numbers in an economy with such high unemployment," noted Sara Sutton Fell, CEO of FlexJobs. "It shows that the lack of flexible work options is already a serious factor in recruiting and retaining employees."
For example, to achieve the option to telecommute, one in five respondents would take a 10 percent cut in pay, with another 7 percent being willing to take a 20 percent cut in pay! Another one in five would give up some vacation time, and yet another would give up health benefits. Sixteen percent would give up employer-matching retirement contributions. All of this can add up to notable cost savings for employers.
Reasons for wanting more telecommuting and flexible work options included work-life balance as the leading reason (75 percent), time savings (45 percent), commute stress (43 percent), and cost savings (40 percent). One in three people said health is a consideration, with one in five specifying exercise.
"It's worth companies noting that by offering flexible work arrangements, it can not only lead to more dedicated staff but also to less employee turnover," noted Sara Sutton Fell, CEO of FlexJobs. "Such options are an obvious way to cut back on the cost of having to recruit and train new team members, not to mention that a happier, healthier, and less stressed staff is a more productive staff."
On the topic of worker productivity, when asked where they go if they really need to get something done for work, only 19 percent said they go to the office while 53 percent said they finish it from their home office. An additional 18 percent of people said that they go to the office before or after regular work hours. These data points should be a major reality check for employers who seem to believe employees work best while at the office surrounded by their colleagues.
More results of the survey can be viewed here: http://www.flexjobs.com/blog/post/work-flexibility-benefits-employers/
About FlexJobs
FlexJobs is the leading online service for professionals seeking telecommuting, flexible schedule, part-time, and freelance jobs. With job listings in over 50 career categories and opportunities ranging from entry-level to executive, freelance to full-time, FlexJobs offers job seekers a safe, easy, and efficient way to find professional and legitimate flexible job listings. Having helped over a half million people in their job searches, FlexJobs has been featured on CNN, the Wall Street Journal, Forbes, and Good Morning America, among hundreds of other trusted media outlets and is a proud partner in the 1 Million for Work Flexibility initiative.