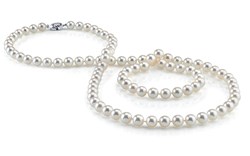 (PRWEB) October 31, 2013
Renowned online retailer Laguna Pearl is offering 10% off and free shipping for all pearl jewelry featured on their popular website. Customers receive this combination of reduced price and free UPS shipping simply by using the promo code "laguna10" when they order.
Laguna Pearl's range of fine jewelry includes Akoya pearls, Tahitian, Hanadama and other prized pearls. They offer such high-quality pearls in a variety of necklaces, rings, pendants, earrings, bracelets and more. Their collections feature bridal, tin cup and designer jewelry as well as loose pearls and men's jewelry.
Established in 1991, Laguna Pearl built a stellar reputation for quality pearl necklaces and jewelry at the best prices. From the beginning, this company sought to cut out the middleman and bring excellent jewelry to a retail consumer with discriminating taste.
With locations in Beverly Hills and Los Angeles, Laguna Pearl boasts the expertise and the exquisite merchandise that their customers appreciate. The Laguna Pearl website now extends that access to fine jewelry to customers throughout the world. They even offer a section devoted to education on pearl types and their attributes.
Laguna Pearl's history of unrivaled selection, competitive pricing and excellent customer service has generated a loyal following in the United States and internationally. As proof of its commitment to customer satisfaction, Laguna Pearl offers a 60-day policy for either full refund or exchange for another item in their inventory.
Hundreds of testimonials from satisfied customers can be found on their website. With this enticing 10% discount offer now in effect, that list of satisfied customers is bound to grow even larger.
For more information: http://www.lagunapearl.com