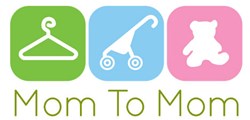 I love how easily I have been able to turn items we no longer use into extra cash. I also feel comfortable knowing MomToMom is a network of moms just like me. - User Anna Delligatti
Charlotte, NC (PRWEB) November 04, 2013
Newly launched iPhone app MomToMom is a marketplace forum that brings moms across the country together. Moms all experience the same concern, that their children outgrow clothing and shoes extremely fast. MomToMom answers the question what do I do with these "barely worn" items and how to find reasonably priced, quality clothing. MomToMom is a free app that enables users to find great deals on clothing, toys and gear for kids and also provides moms with an easy way to make extra money by selling clothing that their own children have outgrown, toys that are no longer played with, and gear that is no longer needed.
User Anna Delligatti says about the app, "I love how easily I have been able to turn items we no longer use into extra cash. I also feel comfortable knowing MomToMom is a network of moms just like me."
The marketplace is very easy to use. Members can simply take a photo of the item they wish to sell with their iPhone and upload it to the MomToMom app instantaneously. Members of the MomToMom community can share comments and ask questions of sellers regarding their listed items. There is also a way to contact a seller privately if users don't want their questions or comments to be viewed publicly.
MomToMom has a simple to use keyword search function to make finding what you are looking for quick and easy. Alternatively, users can search by category or size or just browse through listings. MomToMom user Robin Fisher says "I used to spend countless hours tagging and preparing clothing and unwanted items for consignments sales only to make 60% of the listing price. Now with MomToMom, I can upload items and be done in minutes. I also end up making a lot more money for a lot less effort."
Sarah Flury, another MomToMom member, loves finding amazing deals in the marketplace, "I have found several beautiful smocked dresses and high-end jackets for my girls at a fraction of what it would cost otherwise; many items were even new with tags."
Popular brand names on MomToMom include Ralph Lauren, Luigi Kids, Kellys Kids, Kissy Kissy, Oscar de la Renta, J. Crew and Gap Kids.