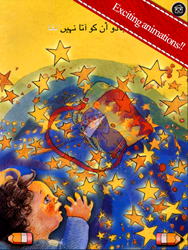 "We really need more quality content in Urdu so that our children can experience the richness of the Urdu language the world over!" - Mahe Zehra Husain COO FiveRivers Technologies
Lahore, Pakistan (PRWEB) November 01, 2013
FiveRivers Technologies one of Pakistan's leading Software Houses, today announced the launch of Pepper.pk's free-to-download children's interactive e-book in collaboration with The Alif Laila Book Bus Society. The e-book will be available for download on the App Store and is already available for the Google Play Store at the following link: https://play.google.com/store/apps/details?id=com.pepperpk.bubloobhaikabasta.
FiveRivers Technologies and Pepper.pk are committed to bringing useful apps and utilities to their customers worldwide. Their latest venture into the e-learning space with children's interactive e-books is no different. They are working in collaboration with The Alif Laila Book Bus Society, an NGO dedicated to bringing quality education to children in Pakistan.
Bubloo Bhai ka Basta is a beautifully illustrated story that outlines Bubloo Bhai's adventures with his imaginary friend Bhaloo Mian. Bhaloo Mian is a stuffed teddy bear and also Bubloo Bhai's best friend. The two together go on many adventures and help each other solve problems.
The books are illustrated beautifully with sketches and paintings done by leading industry artists. The hand painted look has been preserved by the Pepper team and they have done an amazing job bringing a print book to the iPad and other tablets.
The book is full of interactive elements and animations. A lot of physics based movement has also been incorporated for the elements so that children can play and interact with the book.
The option to read the book or have it read out to you has also been built in, making this app relevant for really little children and children who are learning to read.
The entire book has been well thought out with animations, sounds and interactive
elements that are sure to keep children hooked.
This interactive e-book is the first in the Bubloo Bhai series. Pepper is also looking to launch other e-books for the world market and is currently working on their second title based on teaching advanced physics concepts to children using interactive elements.
This e-book is the first of its kind designed and developed for the Pakistani market and for all Urdu speakers all over the world.
About Pepper.pk: Pepper.pk was established in 2009 and focuses on developing fun, easy to use and really useful tools for the world's favorite mobile devices. Their mobile applications range from productivity and communication tools to lifestyle applications and games. Pepper.pk has applications for all major platforms like Blackberry, iPhone, Android, Windows Mobile phones or J2ME devices. They've developed massively successful mobile apps and games, including THREE WORLD #1 titles and won awards globally with more than 150 apps and millions of downloads under their belt.
About FiveRivers : FiveRivers Technologies (Pvt.) Ltd. is an IT company, based in Lahore, Pakistan focused on providing outsourced technology services to a variety of international customers. With ISO:9001 certification and implementation of CMMI level 3 processes, FiveRivers offers the best balance between process, quality standards and speed of execution for its clientele.
FRT specializes in Web 2.0 development, Mobile Applications, Systems Management, Location Based Systems and Enterprise Applications. FiveRivers is the ideal partner for projects that can benefit from low-cost implementation and tightly coupled project management.