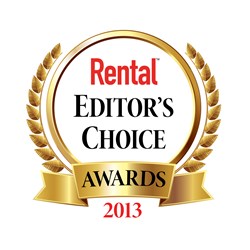 Rental professionals researching equipment purchases will find the best products, courtesy of the editorial staff of Rental and ForRentalPros.com.
Fort Atkinson, WI (PRWEB) November 01, 2013
Rental professionals researching equipment purchases can find the best products, courtesy of the editorial staff of Rental magazine and ForRentalPros.com. Rental and ForRentalPros.com chose winners based on a set of criteria including longevity and consistency in the market, dependability, productivity and innovation. Also a factor was how much interest products received from visitors to the Buyers Guide at ForRentalPros.com. These selections make up the 2013 Editor's Choice Awards.
Winning products, which are featured in the October/November issue of Rental and a special section of ForRentalPros.com, represent the leading edge of innovation, quality, efficiency, durability and reliability in the equipment rental industry today. The combined print and online coverage will benefit rental professionals seeking to update or replace their aging equipment fleets.
The following companies and products received the 2013 Editor's Choice Award winners:
Allied Rammer in-Series Hammers
Allmand Maxi-Lite II Light Tower
Atlas Copco SBU 220 Solid-body Hydraulic Breaker
Barreto 912 Self-Propelled Mini Trencher
Bobcat 500 Frame-size Skid Steer and Compact Track Loaders
Case CX75C SR and CX80C Excavators
Ditch Witch Walk-behind Trenchers
Felling Air Tilt Deck-Over Trailers
Genie SX-180 Telescopic Boom Lift
Ground Hog T-4 Trencher
Hilti TE 30-A36 Cordless Combihammer Drill
ICS Blount 695GC Diamond Chain Saw
JLG X550AJ Compact Crawler Boom Lift
John Deere E Series Skid Steers and Compact Track Loaders
Kubota KX040-4 Compact Excavator
Little Beaver Kwik-Trench Mini Trencher
Mi-T-M Air Compressor, Generator, Welder Combination
Norton Clipper CP500 Series Saws from Saint Gobain-Abrasives
NuStar E-750 Electric Wheelbarrow
Skyjack SJ63 AJ Articulating Boom Lift
Stihl GS 461 Rock Boss Concrete Chain Saw
Takeuchi TS-Series Skid Steer Loaders
Toro TRX-26 Walk-Behind Trencher
Vermeer RTX250 Trencher
Wacker Neuson 803 Mini-excavator
Additional information on the winning products can be found in the October/November of Rental magazine or at ForRentalPros.com.
About Cygnus Construction Network
Cygnus Construction Network, a division of Cygnus Business Media, reaches more than 100,000 construction professionals each month through its ForConstructionPros.com web portal, National Pavement Expo, digital news offerings and print publications: Equipment Today, Concrete Contractor, Sustainable Construction, Rental, Asphalt Contractor and Pavement Maintenance & Reconstruction.
As one of America's top business-to-business media companies, Cygnus Business Media reaches millions of professionals annually and leads the way in providing targeted content to top decision makers and organizations.