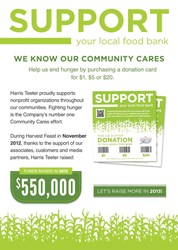 Charlotte, N.C. (PRWEB) November 01, 2013
Today Harris Teeter launched Harvest Feast, a food drive and donation card campaign to support its food bank partners in the eight southeastern and mid-Atlantic United States in which it operates stores, as well as Washington, D.C.
According to Feeding America, for one in six people in the United States, hunger is a reality. While many believe that the problems associated with hunger are confined to small pockets of society, certain areas of the country, or certain neighborhoods, the reality is much different.
Right now, millions of Americans are struggling with hunger. These are often hard-working adults, children and seniors who simply cannot make ends meet and are forced to go without food for several meals, or even days.
In an effort to raise awareness for hunger issues and support local community members-in-need, from November 1 – November 30, Harris Teeter customers will have the opportunity to make a $1, $5 or $20 donation to Harvest Feast at checkout. Similar community-based donation card campaigns hosted by Harris Teeter have raised more than $600,000 in a given month; the 2012 Harvest Feast campaign raised over $550,000. Shoppers may also donate nonperishable food items in any Harris Teeter lobby.
The Company, in its eleventh year hosting Harvest Feast, is partnering with a total of 21 agencies in its marketing areas that are involved in the fight against hunger. Both Harris Teeter's food bank and food pantry partners are assigned to stores within their service areas. All food and monetary donations made at a particular Harris Teeter location are given to the assigned partner to help fight hunger in the local community.
Harris Teeter launched Harvest Feast in 2003. Since that time, the company's shoppers have donated well over one million dollars through the campaign to support the participating food banks, as well as donated hundreds of thousands of pounds of nonperishable food items.
The success of Harris Teeter's Harvest Feast campaign hinges on the generosity of its loyal shoppers. No donation is too big or small, and Harris Teeter hopes for continued participation again in 2013.
To learn more about the partners involved in Harvest Feast, please click here.
The company would also like to thank its media partners Cox Cable, WCSC-TV, WGHP-TV, WBTV, WILM and WRAL for assisting with promotion of the food drive and donation card campaign.