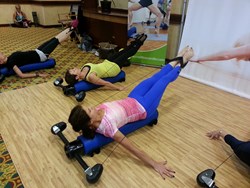 the constant core-stabilization demanded in staying balanced on the roller grants a more intense workout than many others - however, straps and cords promote three-dimensional movement
New York, NY (PRWEB) October 31, 2013
At Mind Your Body Pilates in mid-November, an exciting new addition to group classes will be introduced. The CoreFitnessRoller™ is the invention of Darya Bronston, a dedicated massage therapist, Pilates Method Alliance certified instructor and entrepreneur from Santa Barbara, CA. The CoreFitnessRoller incorporates movements from Pilates, yoga and dance to create an integrated, full-body workout. This product and workout will be introduced in a workshop taught by Melissa Ullom - an instructor at MYB who is certified to teach this exciting new three-dimensional movement technique.
The CoreFitnessRoller is a foam roller with added handles and straps attached to cords. Pilates exercises and core stability moves are just a few of the things people can perform on this versatile fitness product. All body positions including kneeling, sitting, and standing can and will be used. Because of the constant core-stabilization demanded in balancing on the roller, it is a more intense workout than some of the others offered at MYB; also however, straps and cords and the way the roller is used within the technique promote three-dimensional movement.
MYB will offer classes at several times a week for this new group fitness approach - MYB classes will be taught by Melissa and eventually other studio instructors who will also become certified on the CoreFitnessRoller.
Gail Giovanniello, Mind Your Body Pilates owner feels that MYB is fortunate to happen to have an instructor currently on staff - Melissa Ullom -also a former David Parsons dancer - who is certified on the CFR and is going to teach these classes soon at MYB!
Gail's commitment to ongoing Pilates continuing education in regular Pilates Workshop offerings for instructors, colleagues and clients can always be viewed - with current workshops being offered as well as photos and descriptions of past workshops - on the Pilates Workshops tab of the Mind Your Body website. Participants can also sign up online for any upcoming Fitness and Pilates In-House Trainings on the Workshops tab which are given for the teaching staff but are also available to Pilates colleagues from other studios as well as the general public.
Also see the complete Mind Your Body Fitness UES Group Pilates Class Schedule:
Over 50 Weekly Pilates Classes to Choose from on Pilates Reformer, Pilates Tower, Pilates Chair and Pilates Mat: each class with five or fewer students and available seven days a week
Complimentary press previews with Gail Giovanniello can also be scheduled for alternate times.
Press contact: Tim Driscoll 212-647-8878.