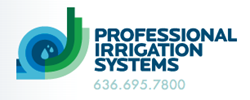 St. Louis, Missouri (PRWEB) November 06, 2013
With the winter months just around the corner, it is important to make sure that a lawn is healthy and ready to withstand the trying season ahead. By following a few simple steps homeowners can help ensure their lawn is prepared and has the best chance of making it through to the spring looking healthy. Ensuring lawn heath during the cold season can also ensure that it will be prepared for irrigation systems again in the spring.
Autumn is a time when many lawns suffer from dehydration. Just because the weather is getting colder doesn't mean lawns require less water. If a drought is persisting into the winter months in a specific area it is important to compensate by installing an effective irrigation system such as the ones available at Professional Irrigation Systems. When watering, homeowners should try to soak the ground through the top couple of inches in order to insure the lawn is able to absorb the moisture without losing too much to evaporation. Early morning remains one of the most effective times to set an irrigation system to water the lawn in order to avoid evaporation problems.
If there are many seasonal trees in the area it can be important to rake their leaves off of a lawn in order to help it remain healthy. A layer of leaves can become matted down and cause damage to the lawn underneath. This is especially important if the weather is starting to get colder, usually in lawns in the Northern United States and Canada. A layer of leaves, which becomes frozen over the top of a lawn can be detrimental to the well-being of the grass underneath. By keeping in mind these easy tips homeowners can be well prepared to deal with the difficulties of autumn when it comes to caring for their lawn.
About Professional Irrigation Systems:
Professional Irrigation Systems was established in 2001 and is based out of Lake St. Louis. For the past 12 years, Professional Irrigation System's priority has been giving customers irrigation systems that save time, money, and water. Professional Irrigation Systems always take the time to ensure that the best system is installed for the customer's home. Educating customers on how there system works also makes Professional Irrigation Systems stand out from the competition. Serving St. Louis irrigation systems owners, Professional Irrigation Systems provides highly-rated customer service.
In March of 2012 Professional Irrigation Systems joined forces with Water Tech Irrigation in South County to form the best service company in the Metro St. Louis area as voted by an independent agency. Water Tech Irrigation has been in business since 1986 and is one of the most highly respected companies in the irrigation industry. For more information on Professional Irrigation Systems, Please visit the homepage at http://www.proirrigation.com or call 636.695.7800