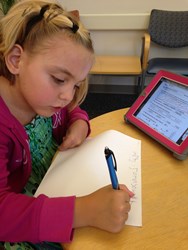 The universal access to the iPads really levels the playing field for regular ed and special ed kids.
St. Louis, MO (PRWEB) November 06, 2013
"I have that app. But I don't use it all that frequently."
Listening to St. Louis Children's Hospital patient Emma Allison speak, the only giveaway to her age is the high-pitched voice of a little girl. According to her mom, she's 8 – going on 18. But the fact that she's swiftly navigating advanced technology is nothing new.
"She's had keyboarding in her IEP since she was three," Ona Allison explains.
Emma's Individualized Education Plan (IEP) exists because of limitations that don't affect her intellect, but, rather, her movement. Emma has cerebral palsy (CP), a life-long condition that impairs the communication between the brain and the muscles, causing a permanent state of uncoordinated movement and posturing. In Emma's case, the disorder involves both of her legs and one arm. She uses a walker, and requires a great deal of time to write anything by hand.
According to her occupational therapist, Nicole Weckherlin, Emma's situation is common among children with CP.
"Many times in school, they shorten assignments for these kids. They tell them that if this is hard for you, you don't have to do all ten spelling words, you can just do five of them. It helps with timing, but these kids then lose out on part of the educational experience."
For years, Nicole has suggested assistive technology and devices to help children with CP better integrate with the classroom. But that technology poses a number of shortcomings, namely, the equipment can be bulky, and the kids often don't want to use anything that would set them apart from the rest of the class.
With the advent of tablet devices, though, Nicole saw an opportunity. She began suggesting families purchase iPads about three years ago, under the direction of Dr. Jan Brunstrom-Hernandez. She started identifying applications that would help children with certain limitations, apps that would make them more productive, and apps that could help them sharpen their hand-eye coordination. And it didn't take long for schools to start seeing the benefit.
To date, Nicole has presented to multiple schools on the uses and benefits of the iPad in special education, and frequently corresponds with many more. In December 2011, she began distributing a monthly iPad newsletter, which now boasts an audience of 500 contacts, including patients, parents, teachers, therapists, and health care professionals.
"Now we have kids where we've made the recommendation for an iPad, and they've actually gone out, used it at school, and come back. We're getting a lot of feedback that it's a game changer in school. Kids like Emma are able to keep up with their peers and their lessons and their assignments," Nicole says.
Emma's parents agree.
"In the past, if she was really tired, you wouldn't be able to read her handwriting, so you'd have to erase everything she's written, and she'd have to redo it or we'd have to write it for her," Ona says. "I'm not going to follow her to college and scribe all of her notes for her. We want her to do the work and gain the skills to be independent. The iPad is allowing that."
And kids are willing to use the devices when they're with their peers.
"She likes doing what everyone else is doing," Ona says of Emma.
Far different from the larger medical devices, other children are familiar with iPads, and use them as well. Ona works as the director of technology in Emma's school district, and in the last few years has led an effort to make iPads accessible to all students – because teachers are asking for them.
"The iPad is truly assessing what it should: math skills, spelling skills, language arts skills. We're able to gain a better understanding of a child's cognition with these devices," Nicole explains.
That understanding expands beyond the scope of children with special needs.
"The universal access to the iPads really levels the playing field for regular ed and special ed kids. They're all treated the same."
The results she's seen in patients, combined with the promise of advancing the potential of special education students, prompted Nicole to apply to the St. Louis Children's Hospital Foundation for funds to start an iPad lab at the hospital. She began the process last spring, and was recently awarded more than $2500 to purchase numerous iPad accessories, including mounts, cases, switches, apps and other equipment that will enhance accessibility.
Though the equipment has yet to arrive, she has already begun seeing patients specifically for iPad use and accessibility.
She hopes the iPad lab will introduce even more families to the benefits of the tablet, and, eventually, make the medical community more aware of the tool as device to increase a child's productivity. She's already excited about the long-term potential it has and will give Emma.
"I feel, vocationally, this is where jobs are going to end up. I'm going to guarantee you that Emma is going to do something with computers when she's an adult," Nicole says.
For now, Emma begs to differ. She says she's going to be a swim instructor when she grows up. Though, at only 8, she's reserving the right to change her mind. Frequently.