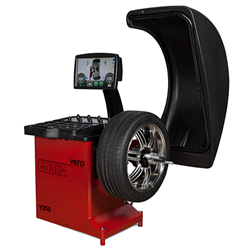 Las Vegas (PRWEB) November 04, 2013
Hennessy Industries, Inc., the largest full-line wheel-service equipment manufacturer in North America, will unveil the Vero™ Series V200 Wheel Balancer under the COATS® brand on November 5th at SEMA Booth #43167 in Las Vegas. The V200 focuses on superior design, ease of use and thorough operating cycle to help tire dealers deliver a better balance the first time, every time.
"With the V200, we insisted on high levels of accuracy rather than give our users an "OK" balance that risks a customer comeback," said Kevin Keefe, Hennessy Industries Vice President of Marketing. "Vero literally translates to 'the truth' – we're arming tire dealers with the true information they need to minimize residual imbalance in order to reduce comebacks and get a better balance the first time."
The V200 features the next generation of COATS proven Direct Drive™ technology. Unlike indirect drive systems that use belts and pulleys, Direct Drive combines the motor and spindle into a single, pre-balanced assembly that stays accurate for years and never needs to be recalibrated to zero.
Every feature of the V200 works together to improve accuracy. Its Laser Guided Weight Placement™ system pinpoints the exact weight location, both radially and axially, minimizing residual imbalances. The industrial-grade touchscreen boasts an intuitive "No Touch" interface that helps technicians perform 85% of wheel balances without ever touching the screen.
"During the engineering phase of the V200, we looked for opportunities to improve speed, reduce operator error and accelerate training," said Keefe. "The result is the V200's new user interface; we've standardized wheel balancing into a step-by-step process that eliminates training hurdles and puts one-spin accuracy within anyone's reach."
Enter for your chance to win a Vero Series V200 Wheel Balancer at SEMA booth #43167 or register online at http://www.coatsreveal.com. Winners will be notified December 15th, 2013 via email.
About Hennessy Industries
With facilities in the U.S., Canada and abroad, Hennessy Industries is one of the world's foremost aftermarket manufacturers of wheel-service equipment. Hennessy designs, builds and markets equipment, accessories and consumables under three renowned brand names: AMMCO®, COATS® and BADA®. The VERO™ series of balancers are designed for medium to high volume tire dealers that value ease of use, durability, accuracy, and speed above all else.